Vertical Refreshment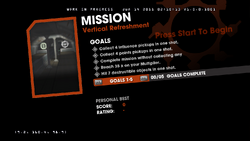 Vertical Refreshment objectives
Vertical Refreshment is the eighth mission in Saints Row: Money Shot.
This mission takes place in an Ultor shooting range and is untimed.
Objectives
Edit
Collect 4 Influence pickups in one shot.
Collect 4 points pickups in one shot.
Complete mission without collecting any
Reach 35 x on your multiplier.
Hit 7 destructible objects in one shot.
The internal name for this mission is Inf_Tunnel_F.
References
Edit