Posted by
Zadidoll
on 2013-06-15 22:31:34
---
Because I don't know where to put these items at in the SRIV articles at this time I'm just going to add the images to my blog here for reference.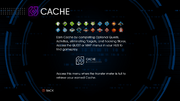 Zadidoll, 2013-06-15T22:31:34Z (last edited: 452, 2016-10-18T20:16:00Z)
Is Cache kinda like Respect?
452, 2013-06-15T22:43:17Z
I think its replacement for Cash
El Ieuan, 2013-06-15T23:34:30Z
Ah. I see.
I don't pronounce "Cache" as "Cash", so it didn't occur to me.
452, 2013-06-16T00:03:34Z
And if i am correct they have replced Respect with XP.
They have also changed the Health meter blue
And from a pciture on the games website replaced Planet Saints with Planet Zin
They have changed alot of things for IV it seems
El Ieuan, 2013-06-16T04:44:09Z
Ad blocker interference detected!
Wikia is a free-to-use site that makes money from advertising. We have a modified experience for viewers using ad blockers

Wikia is not accessible if you've made further modifications. Remove the custom ad blocker rule(s) and the page will load as expected.