Ad blocker interference detected!
Wikia is a free-to-use site that makes money from advertising. We have a modified experience for viewers using ad blockers

Wikia is not accessible if you've made further modifications. Remove the custom ad blocker rule(s) and the page will load as expected.
---
General inormation was proposed for Deletion on 2016-11-13

Reason: Has no purpose
Please leave your opinion on this article's discussion page.
if you are new to the game but know abit about the game but need help always tell me whats buggin u and ill help because ive completed saints row 3 so many time plus i know good cheats and i can kill professor genki
now gnki is a cat mascot to an activity if you see him on the street kill him if you dont have max health you know the unlimited make sure you have some homies with you or u will diewhen you kill him he drops a wod of cash like $300,000 but he has lots of health to get his costume car and gun get the fun pack premium pack and girl pack they have some fun things in those packs
thanks and goodbye
from:
THE_KILLBANE_ASSASS1N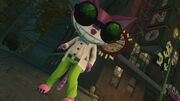 THE KILLBANE ASSASS1N - 2012-08-21 15:09:53