Store Hacking help request
Ad blocker interference detected!
Wikia is a free-to-use site that makes money from advertising. We have a modified experience for viewers using ad blockers

Wikia is not accessible if you've made further modifications. Remove the custom ad blocker rule(s) and the page will load as expected.
---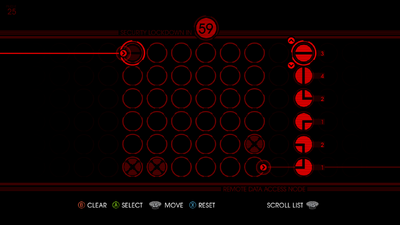 OK now I need some serious help, I am trying to do this hacking job for Kinzie, and one of the last ones involve the Friendly Fire store in Henry Steel Mills, now no matter WHAT method I try taking. I run out of BARS for each meothd I try, and so far NOTHING is WORKING!!!!!! UGH!!!!!!!!!!!
The problem I am having is in the imiage BELOW, check it out and please let me know what to do, I SERIOUSLY am STUCK on this and I can't get it right.............NO MATTER HOW HARD I TRY, ALL OF MY METHODS HAVE FAILED! Nikolai Banks (talk) 22:01, October 15, 2013 (UTC)
OK I got another problem, please everyone pay attention cause I really need some help on this next Hacking problem in Saints Row IV, and again my attemps to hack into it has failed. Please help me.
Nikolai Banks, 2013-10-15T22:01:01Z (last edited: 452, 2015-12-20T12:53:28Z)
I don't see the number - is this number 31?
(There's supposed to be a number shown in the top left)

edit: For the record, the images in the blog post have since been renamed and replaced by my own screenshots, which do have the numbers shown.

452, 2013-10-15T22:29:17Z
I don't know exactly, the game doesn't say.
Nikolai Banks, 2013-10-16T15:22:34Z
each puzzle has a number in the top left of the screen when you begin hacking, i have located list of all solutions... all you have to do is look to see which number you're on and then look for the solution in the list provided.
67.185.196.0, 2013-12-04T13:00:45Z
Available:
- - - | | | | L L / \ \ J

Solutions:

 \ / \ O O O \ O O O O O \ O O O O O \ O O O O O
 L J | O O O | / \ O O O | O O O O O | O O O O O
 O O | O O O L J | O O O | / \ O O O | O O O O O
 O O | O O O O O | O O O L J | O O O | / \ O O O
 O O | O O X O O | O O X O O | O O X L J | O O X
 X X L - - - X X L - - - X X L - - - X X L - - -

 \ / - \ O O \ O O O O O \ O O O O O \ O O O O O
 L J O | O O | / - \ O O | O O O O O | O O O O O
 O O O | O O L J O | O O | / - \ O O | O O O O O
 O O O | O O O O O | O O L J O | O O | / - \ O O
 O O O | O X O O O | O X O O O | O X L J O | O X
 X X O L - - X X O L - - X X O L - - X X O L - -

 \ O / \ O O \ O O O O O \ O O O O O \ O O O O O
 L - J | O O | O / \ O O | O O O O O | O O O O O
 O O O | O O L - J | O O | O / \ O O | O O O O O
 O O O | O O O O O | O O L - J | O O | O / \ O O
 O O O | O X O O O | O X O O O | O X L - J | O X
 X X O L - - X X O L - - X X O L - - X X O L - -

 - \ / \ O O - \ O O O O - \ O O O O - \ O O O O
 O L J | O O O | / \ O O O | O O O O O | O O O O
 O O O | O O O L J | O O O | / \ O O O | O O O O
 O O O | O O O O O | O O O L J | O O O | / \ O O
 O O O | O X O O O | O X O O O | O X O L J | O X
 X X O L - - X X O L - - X X O L - - X X O L - -

 \ / - - \ O \ O O O O O \ O O O O O \ O O O O O
 L J O O | O | / - - \ O | O O O O O | O O O O O
 O O O O | O L J O O | O | / - - \ O | O O O O O
 O O O O | O O O O O | O L J O O | O | / - - \ O
 O O O O | X O O O O | X O O O O | X L J O O | X
 X X O O L - X X O O L - X X O O L - X X O O L -

 \ O O / \ O \ O O O O O \ O O O O O \ O O O O O
 L - - J | O | O O / \ O | O O O O O | O O O O O
 O O O O | O L - - J | O | O O / \ O | O O O O O
 O O O O | O O O O O | O L - - J | O | O O / \ O
 O O O O | X O O O O | X O O O O | X L - - J | X
 X X O O L - X X O O L - X X O O L - X X O O L -

 - - \ / \ O - - \ O O O - - \ O O O - - \ O O O
 O O L J | O O O | / \ O O O | O O O O O | O O O
 O O O O | O O O L J | O O O | / \ O O O | O O O
 O O O O | O O O O O | O O O L J | O O O | / \ O
 O O O O | X O O O O | X O O O O | X O O L J | X
 X X O O L - X X O O L - X X O O L - X X O O L -

 \ O / - \ O \ O O O O O \ O O O O O \ O O O O O
 L - J O | O | O / - \ O | O O O O O | O O O O O
 O O O O | O L - J O | O | O / - \ O | O O O O O
 O O O O | O O O O O | O L - J O | O | O / - \ O
 O O O O | X O O O O | X O O O O | X L - J O | X
 X X O O L - X X O O L - X X O O L - X X O O L -

 - \ / - \ O - \ O O O O - \ O O O O - \ O O O O
 O L J O | O O | / - \ O O | O O O O O | O O O O
 O O O O | O O L J O | O O | / - \ O O | O O O O
 O O O O | O O O O O | O O L J O | O O | / - \ O
 O O O O | X O O O O | X O O O O | X O L J O | X
 X X O O L - X X O O L - X X O O L - X X O O L -

 - \ O / \ O - \ O O O O - \ O O O O - \ O O O O
 O L - J | O O | O / \ O O | O O O O O | O O O O
 O O O O | O O L - J | O O | O / \ O O | O O O O
 O O O O | O O O O O | O O L - J | O O | O / \ O
 O O O O | X O O O O | X O O O O | X O L - J | X
 X X O O L - X X O O L - X X O O L - X X O O L -

In case anyone is wondering, yes, I made these myself. As far as I can tell, this appears to be every possible solution. If I missed something, please let me know.
452, 2013-10-15T22:38:44Z
In return, can you please take screenshots of each hacking screen and upload them?
452, 2013-10-15T23:14:53Z
Thanks for the help 452, your methods helped me, got any ideas for this next problem?
Nikolai Banks, 2013-10-16T14:56:38Z
Thanks, I hope to use these when or if I ever get into a pickle with hacking in SR4
Nikolai Banks, 2013-10-16T15:22:04Z
Since you do not appear to be ever going to upload the screenshots of each hacking screen as I requested, I have done so myself.
The fact that I spent time helping you but you did not help the wiki in return means I am less likely to give specific help to other users in the future.
452, 2015-12-20T12:47:35Z