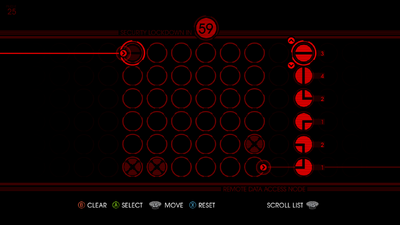 OK now I need some serious help, I am trying to do this hacking job for Kinzie, and one of the last ones involve the Friendly Fire store in Henry Steel Mills, now no matter WHAT method I try taking. I run out of BARS for each meothd I try, and so far NOTHING is WORKING!!!!!! UGH!!!!!!!!!!!
The problem I am having is in the imiage BELOW, check it out and please let me know what to do, I SERIOUSLY am STUCK on this and I can't get it right.............NO MATTER HOW HARD I TRY, ALL OF MY METHODS HAVE FAILED! Nikolai Banks (talk) 22:01, October 15, 2013 (UTC)
OK I got another problem, please everyone pay attention cause I really need some help on this next Hacking problem in Saints Row IV, and again my attemps to hack into it has failed. Please help me.