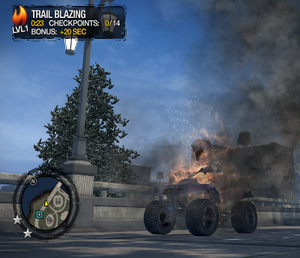 Trail Blazing is an Activity in Saints Row 2 and Saints Row: The Third.[1]
Race to the finish for cash and respect. Bonus seconds earned from ramming people and cars are added to your timer at each checkpoint.

— Trail Blazing introduction in Saints Row 2[2]
Saints Row 2Edit
In this activity, The Protagonist is put on a blazing Toad wearing a flame-proof suit, and must race through various locations Stilwater. The course is similar to a regular checkpoint race, but the timer counts down between each checkpoint instead of for the whole course.
Driving into Civilians, cars and objects sets them alight, or cause them to explode, awards points. After driving through a checkpoint, points earned are converted to extra time. This activity is made very easy on all levels by using the cheat super explosions (#7)
Driving into a fuel barrel causes it to explode, and driving into a spot marked with a flame ignites a gasoline trail which usually destroys property, cars and people.
Main article: Tips
Avoid water as it extinguishes the fire, but driving into a flame or barrel re-ignites the Toad.
Not hitting enough people and cars does not leave enough time to complete the race, but deviating from the track too much to hunt for victims does the same. The trick is to find a balance between both.
Drive on the wrong side of the road and crash into the oncoming traffic for extra time.
Locations
Edit
There are two locations available for Trail Blazing, both visible on the map:
Charles "Chuck" Mueller made the movie Skeeters on Fire[

reference?

], Weddings on Fire[

reference?

] and wanted to make the movie Bangers on Fire, starring The Protagonist.[

reference?

]
Apartments District
Level 3: Brotherhood notoriety reduced (5%)
Level 6: Brotherhood notoriety reduced (15%)
Downtown District
Level 3: Reduced explosion damage (5%)
Level 6: Reduced explosion damage (15%)
All levels at both locations:
Fire Fighter Suit added to the Wardrobe. Offers full immunity to fire when all pieces are worn.
Saints Row: The ThirdEdit
In Saints Row: The Third, in addition to the returning style of Trail Blazing established in Saints Row 2, there is also a second form of the Activity known as Cyber Blazing where The Protagonist helps Kinzie Kensington hack by jumping into the Deckers' cyberspace and racing a Tron-style lightcycle (named the X-2 Phantom) down a halfpipe while blowing up cyber tanks for extra time and avoiding firewalls that give time penalties.[3]
Cyber Blazing
Edit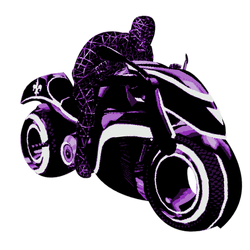 Kinzie's Trail Blazing activity takes place in cyberspace, where an avatar of The Protagonist rides on an X-2 Phantom through a pipe. The objective is to race down the pipe while hitting Deckers in ASPs and avoiding Firewalls, which add and deduct time respectively.
Kinzie Kensington hosts this activity, and states that The Protagonist needs to race through cyberspace in order to hack the Deckers and pinpoint their locations in real life.
When this activity is started as a mission through the Cellphone, it is named "Cyber Blazing", but the on-screen help text, the Upgrades menu and the activity marker all say "Trail Blazing".
Transcript
Edit
When played as part of the storyline, there is an opening cutscene.
Protagonist: "I thought someone who just got out of captivity would want to live it up a little more."
Kinzie: "Not really, I hate people."
Protagonist: "Oh. So do you have anything on the Deckers?"
Kinzie: "Not yet."
Protagonist: "What have you been doing since you got out?"
Kinzie: "Power leveling."
Protagonist: "You're killing me, Kinzie."
Kinzie: "I can't help you take down the Deckers until I know where they're hiding. So, I wrote a program that tracks a user's physical location while they're logged on."
Protagonist: "That's ... awesome?"
Kinzie: "Just play the damn game and I can pinpoint where the Deckers are in real life."
Protagonist: "Now we're talkin'."


— Cyber Blazing storyline cutscene
The outfit used during Trail Blazing can be kept using the same method as keeping the cop outfit from Fuzz: Exiting the activity using the pause glitch, saving the game, then saving the outfit.
Cyber Blazing is very similar to the 1982 arcade game Tron.
References
Edit
↑ Achievements: Achievements and Trophies in Saints Row: The Third
↑ Image:

↑ Image:

↑ Game string: "ACT_HUMAN_TORCH_NAME = Trail Blazing"
↑ Game string: "ACT_FUZZ_CRIME_HUMAN_TORCH = Apprehend the college kids playing Trail Blazing"
↑ Game string: "HumanTorch_Downtown = Trail Blazing (Downtown)"
↑ Game string: "MAP_ICON_HUMAN_TORCH = Trail Blazing"
↑ Game string: "UNL_TORCH_ALL = Fire Fighter Suit"
↑ Image:

↑ Image:
This article contains no references. See
Help:Cite
.
Ad blocker interference detected!
Wikia is a free-to-use site that makes money from advertising. We have a modified experience for viewers using ad blockers

Wikia is not accessible if you've made further modifications. Remove the custom ad blocker rule(s) and the page will load as expected.