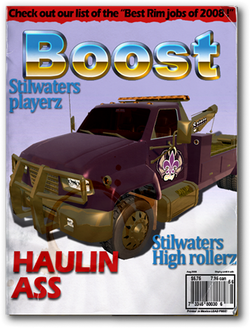 Tow Truck is a Job Diversion in Saints Row 2
For the Tow Truck vehicle, see Shaft
Description
Edit
Upon entering a Shaft Tow Truck, you will be given the option to start the Tow Truck Diversion. The concept of Towing vehicles is introduced in the mission Three Kings, when Carlos asks you to tow the vehicle of someone who owes him money.
In this diversion, you must repossess a series of vehicles and tow them to the nearest Mechanic location. The owners of the vehicles will always be standing nearby, and will attack you. You will be awarded Cash based on the damage level of the repossessed car.
In some levels of this diversion, you must repossess vehicles from Gangs and Law enforcement, which will automatically give you Notoriety.
It is not possible to repair your Shaft, you cannot switch Shafts mid-mission, and you cannot leave your Shaft for more than 30 seconds.
After completing all 10 levels of Tow Truck, a special variant Shaft Tow Truck will be unlocked in your Garage. This Shaft has Saints logos and is not customizable at the Mechanic.
Completion of this diversion is one of the requirements for the Blue Collar Achievement.
Statistics
Edit
There are 2 Statistics for this Diversion in the Diversions menu
Vehicles Towed
Cash Earned as Tow Truck Driver
Upgrading your Shaft at the Mechanic before starting this diversion is essential.
As you cannot repair or switch vehicles mid-mission, so one important tactic is to always jump out of your vehicle when shooting at someone, so that they will not damage the Tow Truck.
If this Diversion is started near a parking garage, such as in the Barrio District. Target cars will spawn at the very top level, and it is very difficult to drive up and down quickly without damaging your vehicle, so it is best to perform this diversion in an area without parking garages, such as the Suburbs District.
Temporarily reducing the game difficulty level will greatly help finish this Diversion.
After towing required vehicle and gaining Notoriety, drive straightly to Mechanic location. Forgive and Forget will be unavaliable during diversion, so driving there is useless as notoriety will not be removed.
According to text found in the game data files, you originally were not allowed to kill the owner of the vehicle you were repossessing, but this was changed in the final game.