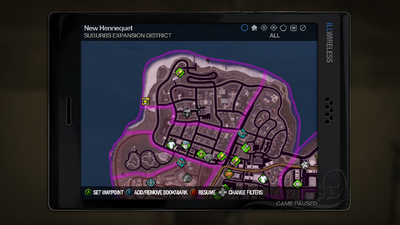 Suburbs Expansion is a District of Stilwater in Saints Row 2.
Suburbs Expansion is located to the west of the Suburbs, and consists of three neighborhoods: New Hennequet, Quinbecca and Mourning Woods Cemetery.
The entire district is controlled by the Ronin.
The district is where The Protagonist first meets Shaundi during the Three Kings mission.
Locations
Edit
The Suburbs Dock is located in New Hennequet.
The Marshall Winslow Recreation Center is a large enterable building with underground casino, which is featured in the New Hennequet Rec Center Stronghold.
The Cemetery Sex Cavern is located in Mourning Woods Cemetery.
Activities
Edit
This district contains multiple activities:
References
Edit