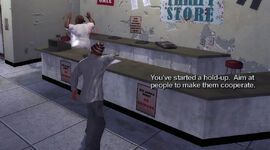 Store Hold-ups are a diversion in Saints Row and Saints Row 2.
Description
Edit
Store Hold-Ups are similar to Mugging, but are performed inside Stores.
There are two ways to start a hold-up:
Register - To perform this hold-up, grab the clerk as a Human Shield. (Saints Row 2 only)
Safe - Pointing a weapon at the clerk behind the counter will begin a hold-up. Fine Aim mode is not required as it is with Muggings, since pointing the crosshair at the clerk will cause The Protagonist to raise their weapon.
Once the hold-up is started, the clerk will walk towards the Safe. While they are walking, the targeting reticle must remain on the clerk. If it is pointed away from the clerk they will lower their arms and the alarm will go off.
After leading the clerk to the safe, they will open it and Cash will be shown inside, which can be picked up. If there is no safe, they will walk to the cash register instead.
Alternatively, in Saints Row, Safecracking is available, which starts the Theft activity. Safecracking was going to be included as a diversion in Saints Row 2, but was removed before the final release, but was not entirely removed from the game data files.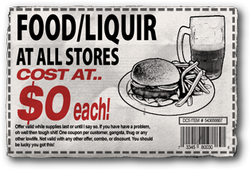 Statistics
Edit
There are two entries in the Statistics menu related to Hold-ups
Cash Earned as a Stick-up Man - the total amount of cash stolen.
Stores Robbed - the number of stores, tracked for the reward.
When entering a store with a weapon equipped, the clerk will sometimes tell The Protagonist to put it away. This may have been included as a clue that hold-ups were possible.
It is not possible to rob owned Stores, but since stores in the Saint's Row District cannot be purchased, they can still be robbed after buying all of the others.
When robbing a gas station clerk or old man clerk there's a high possibility he will attack.