Stilwater Memorial Hospital
Talk

0
A picture is worth 1000 words.
Improve this article by adding an image
of Interior and Exterior from Saints Row.
Stilwater Memorial Hospital is a building in Saints Row and Saints Row 2.
Description
Edit
When The Protagonist is Smoked, he will respawn here, if this Hospital is the closest. The exterior includes a car park, stairs leading up the entrance and an inaccessible emergency entrance around the back.
Johnny Gat is taken here after being stabbed.[1]
Saints Row
Edit
There are two different buildings bearing the name "Stilwater Memorial Hospital". One is located on the north island, in
Adept Way
, the other is located on the south island, in
Ezpata
. In
Saints Row 2
, the Ezpata hospital is known as "Sangre Sedienta Hospital".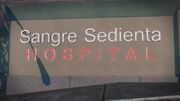 Saints Row 2
Edit
There are a set of doors at the front of the building on the ground floor, inside there is a main reception desk, a waiting area and 2 corridors going to various wards with doctors, nurses and patients standing around.
The second and third level can only be accessed during the mission Visiting Hours. These levels consist of many rooms and a surgical area, but because the elevators are only enabled during the Visiting Hours mission, they cannot be accessed outside of that mission.
The top floor can be accessed via a door next to the helipad, which is only accessible by helicopter. The door leads to a corridor with small rooms leading off it. The stairwell on the top floor is locked outside of the mission.
There are two Ultor signs by the main reception desk indicating the company fund the hospital.
The background music playing is the same as in Rounds Square Shopping Center, another Ultor owned building.
There is no ramp at the main entrance, unusual for a medical facility
"Sangre Sedienta" is Spanish for "Thirsty for Blood".
References
Edit