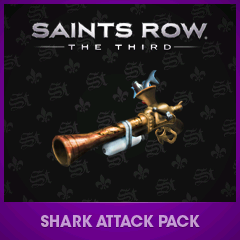 The Shark Attack Pack is downloadable content in Saints Row: The Third.
Description
Edit
"Add to your wardrobe and weapon cache with the Shark Attack Pack. The Shark-O-Matic shoots out a steady stream of slimy fish guts, attracting whatever may lurk under the streets of Steelport. And if that isn't enough, the Shark Bite Hat allows you to experience the feeling of being caught in the jaws of a great white."
— Steam
Comes with a new shotgun, the Shark-O-Matic, and a hat, the Shark Bite Hat. Can be purchased via PSN, Xbox Live, or Steam, for $1.99.[1]
The Shark-O-Matic is a non upgradeable gun that can be found in any of the cribs weapon caches once the expansion has been purchased. Once you have fired upon the enemy, they will begin to run around totally bat-shit insane. After a few short moments, a shark will appear from beneath them devouring them and knocking back or maiming anyone in close proximity.
The Shark bite hat is a standard costume piece that is unlocked in the cribs after purchase. It cannot have its colors changed, and can be bought in any clothing shop.
The name of the shark is the Steelport Sewer Shark, and this name possibly insists that the shark is an urban legend, or that it is feared by many in Steelport. This may also be a possible reference to the real life urban myth of alligators in New York sewers, or possibly the Saturday Night Live sketch of the "land shark".
The Shark-O-Matic could have taken its inspiration from the game Armed and Dangerous and its Land Shark Gun.
References
Edit