A picture is worth 1000 words.
Improve this article by adding an image
of each secret area.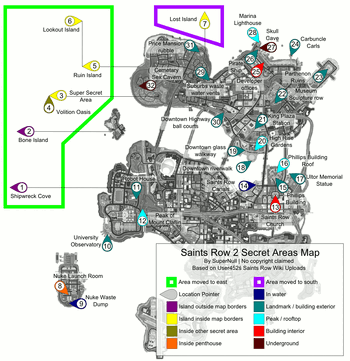 Secret Areas are a collection diversion in Saints Row 2.
Did you want other Easter Eggs?
Description
Edit
There are 32 secret areas to find in Saints Row 2, but there is no reward for finding them all. They are counted in both the Diversions menu, and the Statistics Menu, and are not indicated on the Map, and there are no visual indicators in the game-world.  This subject requires more information. You can help by editing this page.

Locations
Edit
The game data files refer to Secret Areas Diversion as Exploration, and is part of the same diversion as exploring neighborhoods.
Unlike other Collection Diversions, Secret Areas are not numbered.
At the Nuke Launch Room, there is a .44 Shepherd model sitting on the table, surrounded by blow-up dolls.
The game data files mention a 33rd location named "Old Bar", but does not define the coordinates. This may refer to Sea Roses, an empty bar in Sunnyvale Gardens.
References
Edit