Random Quote
Carry more missiles.

— Level 2 description
(from Reaper Drone)
Random Audio
File:Ad Regicide radio misc media 00038.ogg
Radio commercial for
Regicide
movie (from
Timeline
)
Random Trivia
Which vehicle has more doors than seats? (
Answer
)
Sea Roses is an enterable, unusable, pub with no people inside.
It is located on the border of Sunnyvale Gardens and Shivington.
The Saints Row 2 data files reference a 33rd Secret Area named "Old Bar", which is likely to be this building.
Random File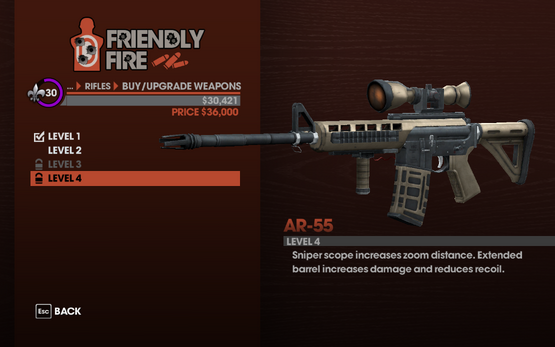 File:AR-55 Level 4 description.png
Used on
AR-55
If this is a poor quality image, please
upload a replacement
.
Randomly chosen from 20971
files
on the Saints Row Wiki
---

Wikia Staff have deleted 31 Top 10 Lists from the Saints Row Wiki without prior warning.

On Community Central, Wikia Staff claimed that they contacted wikis with more than 10 Top 10 Lists. They did not contact me, or the Saints Row Wiki, in any form. They have now locked that thread so that people who were not warned cannot complain.

Strangely, this deletion activity did not appear on ..→

---

Xbox One Backwards Compatibility is apparently decided by community vote.

Both Saints Row: The Third and Saints Row IV are Backwards Compatible, despite the fact that Saints Row IV was already released natively for the Xbone One as Saints Row IV Re-elected.

Even if you don't have an Xbox One, voting for Backwards Compatibility helps the wiki, because it means we could potentially have more people able to take screenshots of Saints Row.

Go to http://xbox.uservoice.com/forums/298503-backward-compatibility?query=saints and vote for both Saints ..→

---

---

I previously posted about SR2 and SRTT being released without DRM through GOG.com - now you can upgrade to the DRM-free version of Saints Row 2 for free.

If you own the DRM-encumbered version of Saints Row 2 available on Steam, you can now link your Steam account to a GOG account, and obtain the DRM-free version from GOG for free.

Once your Steam account is linked to your GOG account, Saints Row 2 will be available in your GOG library, along with all other eligible games.

This is apparently a limited-time offer, to find out ..→

---

---

Saints Row 2 and Saints Row: The Third - The Full Package are now available without DRM.

As you may know, Saints Row games on PC normally come with Digital Restriction Measures which force you to connect to the internet and install Steam, even if you purchase the physical disc.

But now, perhaps thanks to Deep Silver's ownership, Saints Row 2 and Saints Row: The Third are both finally available without DRM. No third party bloatware or internet connection required to install.

---

Killing Dex is listed as a feature in Gat out of Hell on gamestop.com! Stewrob11 - 2014-09-10 15:59:08

---

Product Details:

After the space faring antics of Saints Row IV, many fans asked what we could do next... the answer? Shoot The Devil in the face. Play as either Johnny Gat or Kinzie Kensington as you tear apart Hell in a quest to save the leader of the Saints' soul. Historical icons, old friends, older ..→

---

Since Forum:Saints Row IV facts worked so well as an information dump, I'm going to go with that format again. Saints Row: Gat out of Hell can only hold so much information, so it's nice to have somewhere to list all known information before it gets organised. Please add the facts and references here to relevant articles. Any time a gameplay video is released, let me know here and I'll upload 100 screenshots of it for use as references. Remember: This wiki does not claim to be a news site.
This wiki is the ..→

---

I was going to do a write-up of what I learned in a recent gameplay video, but here's a more general post with a range of facts about Saints Row IV.

This wiki is the largest and most detailed archive of information about the Saints Row series, but it has never been claimed to be the most up-to-date, or to be a news site.
It's built by players, for players - if you want to add news, feel free!

---

Pages about Saints Row IV are being updated as new information becomes available, but let's make a single list of everything we ..→

---

Who would like some news?

Deep Silver have posted voice cast for Saints Row IV, so we now know some more about exactly which older characters will be appearing in the game.

These characters are expected to mostly appear within simulations, but I'm hopeful that all of them will be unlocked as Homies in the game.

Most of them are voiced by the same actors, which some unfortunate exceptions. I assume that Eliza Dushku and Mila Kunis are not within the ..→

---

Anyone with any opinions about the Classification Guidelines should ensure that they are properly educated on the matter before saying anything.

This IGN article provides excellent insight into the matter.

Below is the original statement from the Classification ..→

---

A copy of Saints Row: Money Shot has surfaced, and a high resolution video has been posted to youtube. The video is included below.

We've added available information about the game to the Saints Row: Money Shot article, but there is still much we are missing.

If you have a hacked XBox 360 which can play the leaked game, we need your help! We already have the names of the missions and bullets, but here's what we still need:

A full list of mission objectives (A screenshot or video will do)
A full list of bullet statistics (A screenshot or video ..→

---

On the 6th of April, 2013, Steve Jaros, the "Writing Lead" for Saints Row: The Third, confirmed via twitter than "Saving shaundi" is the canonical ending of Saints Row: The Third.

Link to his twitter post: https://twitter.com/SteveJaros/status/320517632040243200

Therefore, at the end of Saints Row: The Third, the Magarac Island statue is still standing, the Daedalus attack never happened, Steelport is not a city-state, Shaundi, Viola, Burt Reynolds, Cyrus Temple and Killbane are alive, ..→