Start contributin', playa!

We don't want Saints Row Wiki to be overrun by Zin
• Check our to-do list to find out how you can help •
This article contains some pre-release information regarding Saints Row IV.

Pre-release developer statements are often inaccurate or misleading.
Some things on this page may be incomplete or no longer accurate.
Always check sources of information. Ask questions on the talk page.
Verify everything and add proof, such as references and screenshots.
Remove this header once you have confirmed all information is accurate.
Saints Row IV

Developer
Volition
Publisher
Deep Silver (Koch Media)
Platforms
PS3, Xbox 360, PC
Release date
August 20, 2013 (US)
August 23, 2013 (Worldwide)
September 12, 2013 (Australia)[1][2]
Saints Row IV[2] is the seventh game in the Saints Row series.[3]
Continuing on from the "Save Shaundi" ending to Saints Row: The Third[4], the Saints are called to assist MI-6 agent Asha Odekar and her associate Matt Miller, the former Deckers leader. The Saints rescue America from a nuclear missile launched by Cyrus Temple, the former STAG leader, who has gone insane and is obsessed with killing the Saints. [5] After killing Cyrus and saving America from the missile hitting Washington, the Presidency of the United States is unlocked.[6]
5 years later after the events of saving America,[7], The Protagonist is now the President of the United States and is able to make decisions to cure cancer or end world hunger, punch a man in the nads or the head and decide to either decline or accept Josh Birk's offer to watch Nyte Blayde with Oleg. As Shaundi warns The Protagonist about an attack, the Earth is invaded by the Zin Empire, an alien race led by Emperor Zinyak.[8] The Protagonist is captured by the Zin along with his cabinet and placed in a virtual simulation of Steelport, and must escape in order to have any hope of saving the Earth.[8] [9] [10]
The Protagonist is then placed in a 50's sitcom simulation in the city of Steelport where violence and foul language are prohibited. Kinzie contacts the boss and helps them escape the simulation by Zinyak, being brought to a new one which is Steelport run by Zinyak. In the simulation, Kinzie is able to find clusters left around in Steelport and are able to gain super powers. With Kinzie's help, The Protagonist is able to go through a door to their real body, which is imprisoned on Zinyak's ship. They then meet Kinzie and Vice President Keith David who rescue The Protagonist. As the Saints try to contact reinforcements from Earth, Zinyak destroys the planet and kills everybody who was not already captured by the Zin. The Protagonist vows to get revenge for Earth and to return to the simulation to disrupt it to kill Zinyak.[11] The Protagonist goes to save their other teammates from their simulations revealing their worst fears. Matt Miller's being stuck in a cyberworld with Killbane trying to kill him,[12] Shaundi's past, calm, fun-loving self,[13] Pierce's fear of the Saints image turning on him,[14] Benjamin King's fear of his former gang members; the Vice Kings killing him[15] and Asha's fear of failing a mission. [16]
As the simulation begins to disrupt under the Saints influence, Zinyak floods virtual Steelport with copies of gang members The Protagonist has faced before.[17] Kinzie determines that the copies are from someone else's memory in which The Protagonist concludes to be Johnny Gat's who was thought dead. Kinzie and Matt revealed that saving Johnny would reveal the location of the Saints to Zinyak. As the hope for humanity, The Protagonist frees Johnny from his memory of Aisha's death in which he was experiencing over and over again. As they go back to the ship, Johnny reveals that on the plane, he was abducted by Zinyak years before his invasion in which Zinyak concluded that he could have single-handedly stopped him if left on Earth.[18] The Saints rally in order to prepare to confront Zinyak in the simulation but are ambushed by an army of Zin. As they escape, Kinzie is captured and finds that Keith David had knocked the other Saints out and had fled showing that he betrayed the Saints. Returning to virtual Steelport, The Protagonist finds Keith has been declared president of the simulation whose motives were for The Protagonist to be killed so that Earth could be restored as Zinyak has promised. As The Protagonist believes that Zinyak is lying, Keith later breaks the deal by saving The Protagonist from Zin which leads Keith to his nightmare of Roddy Piper who tries to get Keith to think straight. The Protagonist and Roddy work together to find answers on where Kinzie was kept. [19]
The Protagonist rescues Kinzie from her 50's simulation. [20] Kinzie, back on the ship, then emerges a plan to crash the simulation. Working together, the Saints weaken the Zin's power and overloads it, managing to shut it down as The Protagonist just escapes. The Protagonist leads an assault on Zinyak's ship where the two confront each other in The Protagonist's new iron suit. The two battle each other with The Protagonist victorious, keeping loyal to what they said of how they will kill Zinyak by cutting is head of. Impressed, the Zin Empire surrender themselves to The Protagonist who becomes the new leader of the Zin. [21]
The Protagonist asks Zinjai whether if Earth can be restored. He says that it cannot but there is the possibility of time-travel to visit Earth before it was destroyed. As the credits roll, there is a clip of The Saints dancing to Montell Jordan's This Is How We Do It which also features Zinyak. Zinjai also shows the many humans that Zinyak had collected over the years in stasis, one of them being Jane Austen. As a fan of Jane Austen, The Protagonist wakes her out of stasis revealing she had been the narrator throughout the game. [21]
There is also a non-canon ending where if the player doesn't complete all loyalty side quests, the Saints plan to take over more planets and will be unaware of Jane Austen or the return of Earth. [21]
Features
Edit
Missions
Edit
Missions provide the narrative of Saints Row IV.
Characters
Edit
A large cast of characters provide the driving force of the narrative of Saints Row IV. Both old and new characters are introduced.
Activities
Edit
As in previous games, Activities award the player with both unique rewards and Respect.
Completing activities will also result in "owning" the surrounding territory, which increases City Income.
Weapons allow the player to engage enemies in combat, both offensively and defensively.
Vehicles
Edit
There are a large variety of Vehicles, including cars, boats, planes, helicopters, tanks, VTOLs, and hoverbikes.
Several Downloadable Content packs are available to purchase.
Legend
C - Clothing is included in the pack
V - Vehicles are included in the pack
W - Weapons are included in the pack
H - Homies are included in the pack
M - Missions are included in the pack
S - Super Power Elements are included in the pack
Season Pass - The Season Pass includes two mission DLC packs at a discounted price: Enter the Dominatrix and How the Saints Save Christmas. Each of these mission packs are also available for individual purchase. The Rectifier weapon is included with the Season Pass, but is excluded in the censored Australian release. [55]
Development
Edit
The game was confirmed to be in development prior to Saints Row: The Third's release; THQ's Danny Bilson briefly said in an interview with X-Play on November 9, 2011, "I already know what Saints Row 4 is about, and it is wilder than [Saints Row: The Third]".[3]
It was confirmed to be in development for PC, PlayStation 3, and Xbox 360 on May 16, 2012, via the LinkedIn profile of a Volition, Inc. developer.[57]
On June 11, 2012, the new THQ president, Jason Rubin, was quoted as having expressed his distaste over Saints Row: The Third's "tone and crass humor", and noted his intention to change that in future entries. Rubin believed that the game's presentation limited its potential audience, when it could have striven to be the next "Red Dead Redemption or Skyrim" (referring to the two games' critical and commercial successes). Rubin further allegedly stated that Saints Row: The Third was a product of "the environment at the time", and that he aims to change that.[58] Rubin later claimed on Twitter that he had been misquoted, and that it was in fact the interviewer who was embarrassed.[59]
A few days later, on June 20, 2012, Rubin stated that the Saints Row: The Third standalone expansion, Enter The Dominatrix, had been cancelled and instead would be merged with "The Next Great Sequel in the Saints Row Franchise", allowing the team "more time, more resources, and a broader scope for the project". He also confirmed the game was scheduled for a calendar 2013 release window.[1]
Following THQ's filing for bankruptcy and subsequent closure, the Saints Row franchise along with developer, Volition, Inc., were auctioned off to Koch Media for $22.3 million on January 23, 2013.[60][61][62][63]
Independent game development company High Voltage Software (developer of the Wii video game The Conduit) is helping out with art assets for the game.[64]
Christ Stockman tweeted on February 4th that there is a rough release date of August and the CEO of Koch Media, Klemens Kundratitz, confirmed that the game will be released in 2013.[65]
Deep Silver stated that they had left Volition, Inc. in full creative control of the "long-in-development" game, with "additional time for polishing".[66]
On the 15th of March, 2013, it was announced that the game would appear at PAX East 2013 in some capacity.[67]
On the 14th of May, 2013, a news post on Volition's webpage described Saints Row IV as "The epic conclusion to the game that changed all the rules!".[68] This is the first time a statement has been made to indicate that Saints Row IV will be the final game in the series.
On June 10, 2013, it became apparent that Saints Row IV will likely have official support for mods.[69]
At E3 2013, a 10 minute gameplay demo was available to play. [70]
At Comic-con 2013, a 20 minute gameplay demo was played and broadcast on Twitch.[71]
On the 15th of March, 2013 a video titled "Saints Row IV Announce Teaser" was uploaded the official Deep Silver youtube account, revealing both the title "Saints Row IV - From the Crack House to the White House", and a release date of August 20, 2013 for North America and August 23, 2013 for the rest of the world.[2]
The Announce Trailer depicts Steelport, with the same style of graphics as Saints Row: The Third, including many identical weapons, vehicles and characters. The 3 Count Casino appears unaltered, before it was a Crib. At least 2 new vehicles are shown, including a new monster truck which is not the Atlasbreaker.[2]. In the PAX Demo, it was shown that this vehicle is an Infuego XL.[72]
Collector's Edition
Edit
On 19 March 2013, the developers asked via Twitter what players would like to see included in a Collector's Edition for the upcoming game.[73] They had "been toying with a lot of ideas", and asked fans to take a short survey and rate several proposed items.[74]
List of proposed items for Saints Row IV Collector's Edition
Saints Row T-shirt - "Department of Homeland Saintcurity"
Saints2013 Presidential campaign gear (pins, hats, Saints car flags)
Voice augmentation device / auto-tune device
Pierce, Shaundi, or other Saint figurine
Presidential briefcase with kinky handcuff and key
Dubstep Doomsday Button
Functional (not deadly) in-game weapon replica
Johnny Gat Memorial Statue
Saints Bazooka-themed Poster Tube
"Eagle Jet" RC Helicopter
Tie and Tie Bar, Money Clip
Sealed Classified Book with artwork (Concept artbook)
Steelbook
Whitehouse "Security" download card
President Seal and / or coin
Cloth world map
Saints belt buckle
Wooden cigar box
Ridiculously amazing glass display case with lights
On the 4th of June, 2013, Deep Silver issued a press release stating that the Collectors Edition, dubbed the "Saints Row IV Collector's Edition: the Super Dangerous Wub Wub Edition", would include a 12" Dubstep Gun replica complete with music from the game and laser sight, a Dubstep Doomsday button, and an 8" Johnny Gat memorial statue.[75] A promotional picture posted to the official twitter account states "for more information, visit: www.saintsrow.com", however, there was nothing regarding the collector's edition on that site at the time. [76][77]
Super Dangerous Wad Wad edition
Edit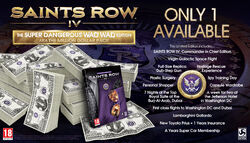 A special one-of-a-kind edition of Saints Row IV called the "Super Dangerous Wad Wad edition" was offered for a million dollars. This edition included:
Saints Row IV : Commander in Chief Edition
A full sized replica Dubstep Gun
A full day of spy training
A trip to space with Virgin Galactic
One year's membership of E25 Super Car Club and a Lamborghini Gallardo to make it worthwhile
Plastic Surgery of the purchaser's choice
A shopping spree with a personal shopper to create the ultimate Planet Saints capsule wardrobe
7 nights for two at The Jefferson Hotel in Washington
Hostage rescue experience
A brand new Toyota Prius and insurance to give something back to the environment
7 nights stay in the Top Royal Suite at the Burj-al-arab with flights for two
Although it was never announced to have been purchased, the link to purchase it no longer works.[79]
Saints Row IV is the seventh instalment in the series.[81]
The game extensively references the movie The Matrix.

Both protagonists are trapped in a computer simulation.
Both protagonists obtain superpowers in the simulation.
Both protagonists face their own common enemy with superpowers like them.
Antagonists in both contained millions of people within their simulations.
Antagonists in both attempt to destroy the "real world".
Antagonists in both can morph and possess people within each simulation.

This is the only game in the main series not to have the ability of unlocking a zombie homie.
It is the only Saints Row game with roman numerals in the title.
A large number of promotional videos have been revealed covering the game; including trailers, gameplay and developer commentaries.
References
Edit
↑ 1.0 1.1 Press Release: Saints Row: The Third • Enter the Dominatrix Now Part of Something Bigger Than Itself
↑ Mission: Zero Saints Thirty
↑ Image: Presidency unlocked
↑ Youtube: The Saints Wing Gameplay footage
↑ 8.0 8.1 Mission: The Saints Wing
↑ Youtube: Gameplay footage
↑ Mission: A Pleasant Day
↑ Mission: The Real World
↑ Mission: Miller-Space
↑ Mission: De Plane Boss
↑ Mission: The Saints Flow
↑ Mission: The Case of Mr. X
↑ Mission: A Game of Clones
↑ Mission: Welcome Back
↑ Mission: Hello Teacup
↑ 21.0 21.1 21.2 Mission: Grand Finale
↑ Xbox marketplace: Inauguration Station
↑ Xbox marketplace: Online Pass
↑ Xbox marketplace: Executive Privilege Pack
↑ Xbox marketplace: Voyeur Pack I
↑ Xbox marketplace: Presidential Pack
↑ Steam: Grass Roots Pack
↑ Xbox marketplace: Grass Roots Pack
↑ Xbox marketplace: Dubstep Gun (Remix) Pack
↑ Xbox marketplace: Voyeur Pack II
↑ Steam: GAT V Pack
↑ Xbox marketplace: GAT V Pack
↑ Xbox marketplace: Wild West Pack
↑ Steam: Commander-in-Chief Pack
↑ Xbox marketplace: Commander-In-Chief Pack
↑ Steam: Volition Comics Pack
↑ Xbox marketplace: Volition Comics Pack
↑ Xbox marketplace: Voyeur Pack III
↑ Xbox marketplace: Enter The Dominatrix
↑ Steam: Enter The Dominatrix
↑ Xbox marketplace: The Super Saints Pack
↑ Xbox marketplace: BradyGames Pack
↑ Xbox marketplace: Pirate's Booty Pack
↑ Steam Pirate's Booty Pack
↑ Steam: Thank You Pack
↑ 46.0 46.1 Xbox Marketplace: Voyeur Pack IV with additional Thank You Pack
↑ Xbox Marketplace: Element of Destruction Pack
↑ Xbox Marketplace: Zinyak Attack Pack
↑ Xbox marketplace: Hey Ash, Whatcha Playin'? Pack
↑ Xbox marketplace: Voyeur Pack V
↑ Xbox marketplace: How the Saints Save Christmas
↑ Steam: Child's Play Pack (removed)
↑ Xbox marketplace: Anime Pack
↑ Xbox marketplace: Stone Age Pack
↑ Xbox marketplace: Season Pass
↑ Destructoid: New THQ president wants an adult humor-free Saints Row
↑ Joystiq: Report: THQ assets divided
↑ Kochmedia: 2013-01-24 Koch Media aquires[sic] IP rights for Saints Row & Metro and development studio Volition
↑ Twitter: @VG_Dave: High Voltage Software (The...
↑ Twitter: We're leaving @VolitionInc ...
↑ Twitter: Coming to PAX East next week? ...
↑ Volition: Saints Row IV: Commander-in-Chief Edition
↑ idolninja.com: The Modding News Destined to Change Everything
↑ Image:

10 minute demo

↑ Image:

20 minute demo

↑ Image: File:Saints Row IV - PAX Demo
↑ Twitter: We want your thoughts on what ...
↑ 75.0 75.1 Press Release, via Joystick: Saints Row IV Collector's Edition
↑ Twitter: Collector's Edition promo image
↑ Image: Collector's Edition promo image
↑ Game.co.uk: super dangerous wad wad edition
↑ Press Release, via Joystick: Saints Row 4 gets pimpin' August 20
↑ Games in the "Saints Row" franchise:
1. Saints Row
2. Saints Row (mobile)
3. Saints Row 2
4. Saints Row 2 (mobile)
5. Saints Row: Total Control
6. Saints Row: The Third
7. Saints Row IV.
Saints Row: Money Shot is not counted, as it was not released.
This article contains no references. See
Help:Cite
.