Radio Stations in Saints Row: The Third
Talk

6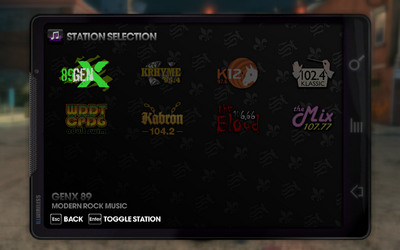 This is an overview of Radio Stations in Saints Row: The Third.
Description
Edit
There are 9 Radio Stations in Saints Row: The Third
While inside a vehicle, either as a driver or passenger, the player can change which Radio Station is currently playing.
Stations
Edit
'80s and '90s pop/rock[1]
Modern rock[1]
Hip-hop[1]
Electronic music[1]
Classical[1]
Adult Swim and Cartoon Network content[1]
Urban latin and raeggaeton[1]
Metal[1]

Mixtape

(custom playlist)
Mixtape is a custom playlist which replaces My Radio 85.5. As there is no Scratch That in Saint Row: The Third, it is not possible to purchase music, all tracks are available at the beginning of the game.
Commercials
Edit
All stations carry a range of commercials for various Stores around Steelport.
The number of stations is noticeably smaller than previous installments, only featuring 8 when in comparison to 12 in Saints Row and 10 in Saints Row 2.
Unlike previous games in the Saints Row series, Saints Row: The Third has much easier custom playlist because all songs are available from the beginning of the game.
Loading a save directly from another can cause radio commercials from earlier in the game to cross into later saves (i.e the safeword ad) and vice versa. This also occurs with the news reports after missions.
Even though Saints Row: The Third is set in a different city (Steelport), some radio stations from Stilwater in Saints Row 2 are still intact. This could imply that Steelport is close to Stilwater.
The radio station 89.0 Generation X makes a reappearance in Saints Row: The Third, despite it being replaced with 89.0 Ultor FM during the events of Saints Row 2.[2]
CD Collection is not a diversion in Saints Row: The Third, so there are no Unlockable music tracks.
References
Edit