Radio Stations in Saints Row
Talk

5
A picture is worth 1000 words.

Improve this article by adding an image.
This is an overview of Radio Stations in Saints Row.
Description
Edit
There are 12 Radio Stations in Saints Row
In Saints Row, radio stations are available while driving in a car, or on foot through the portable "Audio Player".
Alternative Rock & Indie Rock with DJ Paul Driscol
Hip-Hop with DJ Clinton Sparks
Classic Rock & Alternative Rock 'n Roll with DJ Sludge
Newschool Hip-Hop & Contemporary R&B with DJ Eddie Francis
Electronica with DJ Liquid Todd
Modern Rock & Alternative Rock with DJ Kat Corbet
Oldschool Hip-Hop & Pure Hip-Hop with DJ Irie
Classical with DJ Carlton Manchester
Reggae with DJ Errol 'DJ Gringo' Anglin
Easy Listening with DJ Mike St Michaels
Heavy Metal with DJ Bubba The Love Sponge
Conservative talk radio with DJs David Lawrence and Mike Schmidt

Stilwater Police Dispatch

Police Scanner
Custom playlist with on-foot radio and Xbox playlist support
Commercials
Edit
All stations carry a range of commercials for various Stores around Stilwater.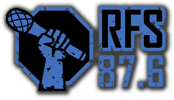 The Saints Row Manual lists a deleted radio station "KRFS", with DJs Bill Leff and Wendy Snyder. The Logo for RFS is included in the Saints Row 2 data files.
References
Edit
This article contains no references. See
Help:Cite
.