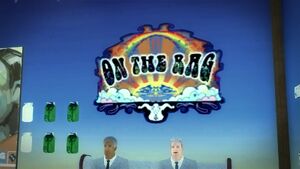 On the Rag is a clothing store in Saints Row and Saints Row 2.
Description
Edit
They are seemingly part of the Hippy movement, taking many different factors from the culture, such as the fact they apparently stock the shops via campervans, are against such things as "Killing the Whales" and are heavy supporters of anything with the name Tye Dye in it.
Their clothes are about middle market, below Branded and above Sloppy Seconds.
On the Rag can be called up by The Protagonist on his cell phone on Saints Row 2, by dialing 555-5926. The person on the phone says they couldn't get to the phone because, 'frankly we don't feel like it'.
Locations
Edit