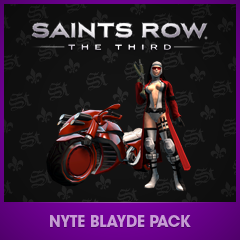 The Nyte Blayde Pack is a downloadable content pack in Saints Row: The Third. [1]
Description
Edit
"The ultimate collection of goods for Nyte Blayde fans! Look just like a Nyte Blayde star with exact replicas of the Altar Boy and Bloody Cannoness Outfits. Experience the excitement of Nyte Blayde's adventures as you get behind the wheel of the Nyte Blayde Mobile vehicle. Top off your full Nyte Blayde experience by zipping around town on the Bloody Cannoness Bike!"
— DLC Description

Nyte Blayde is a fictional superhero (in a TV series), who fights vampires. He is played by the actor Josh Birk, who (depending on the players choice) might become a homie, who can be called to help in a fight.
The Nyte Blayde downloadable content comes with:
Nyte Blayde Mobile - Travel Steelport in style with Nyte Blayde's blood-red, vampire-hunting sports car. Note the car is a possible variation of the Peacemaker.
Altar Boy Outfit - Innocence may be lost, but at least you still have the outfit.
Bloody Canoness Outfit[sic] - Join the Order, slay your mortal enemies, show some leg.
Bloody Cannoness Bike - Vampires can fly, but so will you in this two-wheeled turbo-charged motorcycle of salvation. [1]
Free with the Season Pass, which came free when pre-ordered by THQ's website. You can also buy the Season Pass for $19.99 online, on Steam, Xbox Live, or PSN.
It was only available as part of the Season Pass until 2012-04-10, when it was released as a separate DLC for 240 MS points.[2]
The "Bloody Cannoness" is mispelled in the in-game subtitles, the forum announcement and in the text for the outfit, while it is spelled correctly in the Garage, and in the unlock text for this DLC.
The description to the "Altar Boy" outfit is a clear refrence to the Catholic Church, specifically the massive controversy between many Bishops, Cardinals and Altar Boys in which the Catholic Bishops and Cardinals sexually assualted Altar Boys and the Church's culpability in hiding the cases for many years.
References
Edit
This article contains no references. See
Help:Cite
.