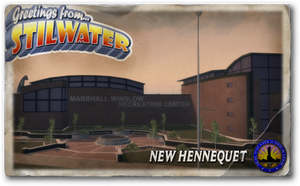 New Hennequet is a Neighborhood in Saints Row 2.
Description
Edit
New Hennequet is an upper-middle and high-class neighborhood in the northwest area of Stilwater in the 2nd installment of the Saints Row series. Its upper-middle and high-class qualities can be seen from the nice, big houses and the new construction, most likely of more high-class homes, in the neighborhood.
It is a part of the newly-founded Suburbs Expansion District, an add-on from the original suburbs found on the north island of Stilwater. New Hennequet is north of its sister neighborhood Quinbecca which is also a part of the Suburbs Expansion District.
New Hennequet is also home to the city's new and only recreation center, which is an enter-able building within the game, and includes a swimming pool, a running track, a weightlifting area, a basketball court, and other sports activities. However, under the recreation center is what seems to be secret: an underground casino operated by The Ronin.[1]
While the Neighborhood is initially under the control of the Ronin, it is taken over by the Saints upon the completion of the New Hennequet Rec Center Stronghold.
Locations
Edit
Activities
Edit
References
Edit