This article contains some unconfirmed information.

Pre-release information from developers is often inaccurate or misleading.
Some facts on this page may be incomplete or outdated.
Verify everything and add proof, such as references and screenshots.
Always check sources of information. Ask questions on the talk page.
Remove this header once you have verified everything is correct.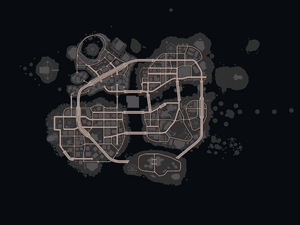 New Hades is the location of Saints Row: Gat out of Hell.[1]
Districts
Edit
New Hades has 6 Districts,[1] and 82 Neighborhoods.
Other islands as visible in the distance, but are inaccessible.
When flying too far from New Hades, the message "You will not gain Satan's Wrath out here" is displayed, and Gat or Kinzie says "I can't leave the boss here...".
In the PAX Prime demo, there were only 81 neighborhoods.[3]
References
Edit