The Mounted .50 Cal is a mounted vehicle weapon in Saints Row 2.
For the dual mini-gun and rockets, see Minigun/Rockets
Bear and Bulldog
Edit
The Bear and the The General's Bulldog are the only land vehicles with a Mounted .50 Cal in Saints Row 2.
The Mounted .50 cal is, most definitely, an anti-personnel weapon. The voracious, beastly rate of fire will tear apart anyone unfortunate to get in its way. However, the rounds have trouble piercing through metal, and as such, are not as effective against vehicles, a downside which can prove fatal in car-chases or high-speed pursuits. During these situations, your best bet is to shoot at the windows of the pursuing vehicle, hopefully killing the driver inside.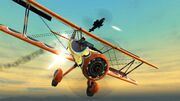 This version of the Mounted .50 Cal is mounted on the Parrot, as well as the Parrot Variants the Corsette and High Rise.
Compared to the .50 Cal used by land vehicles, this is much more effective against vehicles, being able to drop airborne targets from the sky with a quick burst. However, due to the fact that it is in a fixed, forward facing position on an aircraft, it's uses against other targets are severely hindered.
Wolverine
Edit
Whereas the Parrot's .50 is mounted directly ontop of the engine, the Wolverine's .50s are integrated directly into the wings of the Wolverine. The firing sound is shared with the Commander's .50 Cal. The Wolverine's weapon has does slightly more damage per bullet than the Parrot's.

Commander
Edit
There are two .50s on the Commander, one at the rear controlled by the driver, and one at the front controlled by a passenger. Due to the positioning of the turrets, and their limited movement ability, their usage is restricted mainly to ship-to-ship combat.

References
Edit