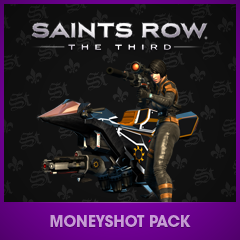 The Moneyshot Pack is downloadable content for Saints Row: The Third.
Were you looking for the game, Saints Row: Money Shot?
Description Edit
This DLC comes includes a new weapon, outfit and vehicle.[reference?]
"Looks can kill...and so do you. With the Moneyshot pack, you can transform yourself into one of Ultor's elite femme fatales. Don your high-heeled tactical catsuit and take to the skies on a custom Ultor jet bike. Then when the time comes to execute your target, do so with unprecedented style with your fully automatic sniper rifle." -Official Description[link?]
This pack comes with the fully automatic sniper rifle, the TOGO-13, a Femme Fatale Catsuit, and the Ultor Interceptor jet bike.
Availability
Edit
This DLC pack was originally only available with the purchase of Prima's Official Saints Row: The Third Studio Edition guide, and is still falsely advertised as being "Available Exclusively To Prima Customers"[1][2] Japanese users have always been able to purchase this pack from the PlayStation Store and Xbox Live Marketplace.
On February 14, 2012, the official Saints Row website released a statement[link?] revealing that the "Moneyshot Pack" along with the Professor Genki's Hyper Ordinary Pre-Order Pack have been released as stand-alone DLC.
The Interceptor jet bike technology was originally owned by Ultor, until they licensed the technology to STAG.[

reference?

]
On the TOGO-13, Intercepter, and Femme Fatale Catsuit, there are multiple Ultor logos.
There is no male version of the outfit, so if worn with a male character, they will be wearing high-heels.
The contents within this DLC are like that of Cypher, the main character in Saints Row: Money Shot
References
Edit