This article contains some unconfirmed information regarding Saints Row: The Third.

Pre-release information from developers is often inaccurate or misleading.
Some facts on this page may be incomplete or outdated.
Verify everything and add proof, such as references and screenshots.
Always check sources of information. Ask questions on the talk page.
Remove this header once you have verified everything is correct.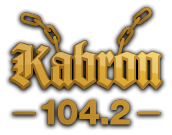 Kabron 104.2 is a radio station in Saints Row: The Third.
Kabron 104.2 plays urban Latin and reggaeton music.
Tracklist
Edit
The word "Cabron" means different things in different Spanish dialects. In Mexico it is a term of endearment similar to "mate", while in Central America it is an insult similar to "motherfucker" or "bastard".[1]
Kabron 104.2 always plays inside Angel's Gym.
Kabron 104.2 is the only station that plays music in Spanish in the Saints Row series.
References
Edit