A picture is worth 1000 words.

Improve this article by adding an image
of Screenshots of tracklists in SRTT and SRIV.
95.4 KRhyme FM AKA KRhyme 95.4[1] is a Radio Station in Saints Row, Saints Row 2, Saints Row: The Third[2][3] and Saints Row IV.[1]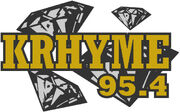 Saints RowEdit
Eddie Francis[4] is the DJ for KRhyme in Saints Row.
Tracklist
Edit
Aesop Rock - Fast Cars[5] (2005)
Aisha - Bounce Like My Checks (2006)
Aisha - Don't Fuck Me Like I'm Your Wife (2006)
Aisha - Leave The Ho (2006)
Black Market Militia feat. Dead Prez - Audobun Ballroom (2005)
Camp Lo - Glow (2002)
Clipse - Grindin' (2002)
Exile feat. Slum Village - Time Has Come (2005)
Grafh - Get Shot Boy (2005)
Jin - Golden (2004)
Joe Budden - Gangsta Party[5] (2005)
Masta Ace feat. Jean Grae - Soda and Soap (2004)
Masta Killa featuring ODB & RZA - Old Man (2004)
Mathematics feat. Ghostface and Raekwon - Real Nillaz (2005)
Rich Medina - Holdin' Up (2006)
Sa-Ra feat. Pharoahe Monch - Fish Fillet (2005)
The Alchemist feat. Lloyd Banks - Bangers (2004)
Turf Talk - Do The Robot (2004)
Twista - Overnight Celebrity (2004)
Saints Row 2Edit
The DJ in Saints Row 2 is Kish, voiced by Andrew Kishino, who is also the voice actor for Donnie.
During a caller request, Kish said it was time to go back to the homeland. The caller said "Africa", Kish corrected him saying "No, Japan". This is a shout out to the lyrics of Kish's one-hit wonder 'I Rhyme the World in 80 Days'
They're more than Hip-Hop Pioneers, They're Musical Legends. Run DMC and Jam Master Jay - Sucker MCs.

— One of Kish's introductions for "Sucker MCs"
Tracklist
Edit
Amerie - "1 Thing" (2005)[7]
Beanie Sigel - "What A Thug About" (1999)[8]
Big Pun featuring Fat Joe - "Twinz (Deep Cover '98)" (1998)
Chrisette Michele - "Good Girl" (2007)
DJ Quik featuring B-Real - "Fandango" (2005)
Joss Stone - "Tell Me 'Bout It" (2007)
Cassie - "Me & U" (2006)
Kelis - "Trick Me" (2004)
Lloyd Banks featuring 50 Cent - "Hands Up" (2006)[8]
Nas - "N.Y. State Of Mind" (1994)[8]
Ne-Yo - "So Sick" (2006)
Run-D.M.C. - "Sucker MCs" (1983)
Wale - "Ridin' In That Black Joint"[8]
Young Jeezy- "I Luv It" (2006)[8]
In real life, Andrew Kishino was known as Kish during his rap career in the early 1990s.
"Ridin' In That Black Joint" is used in Saints Row: The Third as the Cellphone ringtone.
Saints Row: The ThirdEdit
Like in Saints Row 2 the KRhyme's DJ in Saints Row: The Third is Big Kish.
Tracklist
Edit
Amanda Blank - Gimme What You Got (2009)
Blakroc - Done Did It (2009)
Freeway - Throw Your Hands Up (2010)
G-Eazy - My Life Is A Party (2011)
Kanye West - Power (2010)
KB - Get It In (2011)
Kurupt - I'm Burnt (2010)
Medine - Don't Panik (2008)
Mickey Factz - Paradise (2010)
Mos Def - Quiet Dog (2009)
Pharoahe Monch - In the Zone
Rob Roy - Fur In My Cap (2009)
Sean Price - Boom Bye Yeah (2005)
Sixx John - Push Play
Southpaw Swagger - Can't Stop Now (2010)
Sum Kid - The Countdown
Tandem - 93 Hardcore (2005)
Tyler, the Creator - Yonkers (2011)
Wale - Mirrors (2009)
Yelawolf - Good to Go (2010)
KRhyme now plays hip-hop/rap instead of a mixture of hip-hop/R&B.

Additionally, all hip-hop is strictly modern, instead of a mix of modern and old school. Old school hip-hop is now played on The Mix 107.77.

In the game, "Medine" is spelled "Madine".
During the "Party Time" mission in Saints Row: The Third, "Power" by Kanye West is automatically played.
This radio station plays inside the Saints HQ.
KRhyme is the only station that plays music in French in Saints Row: The Third.
Shaundi calls KRhyme to request Mos Def
Here's a Fresh Track off Freeway's Album, The Stimulus Package. You're listening to Big Kish on KRhyme. Yay!

— One of Big Kish's introductions for "Throw Your Hands Up"
Saints Row IVEdit
This station returns in Saints Row IV.
Like in Saints Row 2 and Saints Row: The Third KRhyme's Radio DJ Big Kish is the radio host in Saints Row IV.
Tracklist
Edit
References
Edit
Ad blocker interference detected!
Wikia is a free-to-use site that makes money from advertising. We have a modified experience for viewers using ad blockers

Wikia is not accessible if you've made further modifications. Remove the custom ad blocker rule(s) and the page will load as expected.