A picture is worth 1000 words.

Improve this article by adding an image
of Screenshots of tracklists in SRTT and SRIV.
95.4 KRhyme FM AKA KRhyme 95.4[1] is a Radio Station in Saints Row, Saints Row 2, Saints Row: The Third[2][3] and Saints Row IV.[1]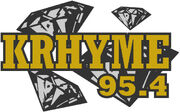 Saints RowEdit
Eddie Francis[4] is the DJ for KRhyme in Saints Row.
Tracklist
Edit
Aesop Rock - Fast Cars[5]
Aisha - Bounce Like My Checks
Aisha - Don't Fuck Me Like I'm Your Wife
Aisha - Leave The Ho
Black Market Militia feat. Dead Prez - Audobun Ballroom
Camp Lo - Glow
Clipse - Grindin'
Exile feat. Slum Village - Time Has Come
Grafh - Get Shot Boy
Jin - Golden
Joe Budden - Gangsta Party[5]
Masta Ace feat. Jean Grae - Soda and Soap
Masta Killa featuring ODB & RZA - Old Man
Mathematics feat. Ghostface and Raekwon - Real Nillaz
Rich Medina - Holdin' Up
Sa-Ra feat. Pharoahe Monch - Fish Fillet
The Alchemist feat. Lloyd Banks - Bangers
Turf Talk - Do The Robot
Twista - Overnight Celebrity
This station may be a nod to JAMN 94.5, a popular Boston-area radio station that airs hip-hop and R&B.
Saints Row 2Edit
The DJ in Saints Row 2 is Kish, voiced by Andrew Kishino, who is also the voice actor for Donnie.
During a caller request, Kish said it was time to go back to the homeland. The caller said "Africa", Kish corrected him saying "No, Japan". This is a shout out to the lyrics of Kish's one-hit wonder 'I Rhyme the World in 80 Days'
Tracklist
Edit
Amerie - "1 Thing" (2005)[7]
Beanie Sigel - "What A Thug About" (1999)[8]
Big Pun featuring Fat Joe - "Twinz (Deep Cover '98)" (1998)
Chrisette Michele - "Good Girl" (2007)
DJ Quik featuring B-Real - "Fandango" (2005)
Joss Stone - "Tell Me 'Bout It" (2007)
Cassie - "Me & U" (2006)
Kelis - "Trick Me" (2004)
Lloyd Banks featuring 50 Cent - "Hands Up" (2006)[8]
Nas - "N.Y. State Of Mind" (1994)[8]
Ne-Yo - "So Sick" (2006)
Run-D.M.C. - "Sucker MCs" (1983)
Wale - "Ridin' In That Black Joint"[8]
Young Jeezy- "I Luv It" (2006)[8]
In real life, Andrew Kishino was known as Kish during his rap career in the early 1990s.
"Ridin' In That Black Joint" is used in Saints Row: The Third as the Cellphone ringtone.
Saints Row: The ThirdEdit
Like in Saints Row 2 the KRhyme's DJ in Saints Row: The Third is Kish.
Tracklist
Edit
Amanda Blank - Gimme What You Got
Blakroc - Done Did It
Freeway - Throw Your Hands Up
G-Eazy - My Life Is A Party
Kanye West - Power
KB - Get It In
Kurupt - I'm Burnt
Medine - Don't Panik
Mickey Factz - Paradise
Mos Def - Quiet Dog
Pharoahe Monch - In the Zone
Rob Roy - Fur In My Cap
Sean Price - Boom Bye Yeah
Sixx John - Push Play
Southpaw Swagger - Can't Stop Now
Sum Kid - The Countdown
Tandem - 93 Hardcore
Tyler, the Creator - Yonkers
Wale - Mirrors
Yelawolf - Good to Go
KRhyme now plays hip-hop/rap instead of a mixture of hip-hop/R&B.

Additionally, all hip-hop is strictly modern, instead of a mix of modern and old school. Old school hip-hop is now played on The Mix 107.77.

In the game, "Medine" is spelled "Madine".
During the "Party Time" mission in Saints Row: The Third, "Power" by Kanye West is automatically played.
This radio station plays inside the Saints HQ.
KRhyme is the only station that plays that plays music in French in Saints Row: The Third.
Shaundi calls KRhyme to request Mos Def
Saints Row IVEdit
This station returns in Saints Row IV.
Like in Saints Row 2 and Saints Row: The Third KRhyme's Radio DJ Kish is the radio host in Saints Row IV.
Tracklist
Edit
References
Edit
Ad blocker interference detected!
Wikia is a free-to-use site that makes money from advertising. We have a modified experience for viewers using ad blockers

Wikia is not accessible if you've made further modifications. Remove the custom ad blocker rule(s) and the page will load as expected.