Help the Saints Row Wiki by cleaning up this article!
Marked because: All in-game events should include references to specific missions and cutscenes
Johnny Gat, also known simply as Gat, is a major character in Saints Row, Saints Row 2, and Saints Row: The Third.
"You can never have too many guns."
— Johnny Gat[1]
Biography
Saints Row
"So you're Julius' new boy huh? You don't look like much. Then again, I don't look like I have an eight inch cock, so I guess we're both full of surprises."
— Johnny Gat to The Protagonist[2]
Johnny Gat was an inhabitant of the Saint's Row district of Stilwater. Realizing that the district was being torn apart by gang wars, he volunteered to join the 3rd Street Saints, a gang aiming to end these wars. Gat was assigned to plot the downfall of the Vice Kings, one of the warring gangs in Stilwater. In doing so, he was aided by the Protagonist.[3]
Gat's 'head on' strategies typically involved massive amounts of bloodshed and extensive property damage. After introducing the Protagonist to Gat's girlfriend Aisha, the three plot out a way to strike at the Vice Kings. They loaded up a car full of C4 and took it to the gang's Recording studio, blowing it up and leveling the place to the ground. Despite all this, Gat admitted to having an admiration for Benjamin King, the Vice King's leader. Although having been shot in the leg by Tony Green, Johnny managed to move on along with the Protagonist on successfully destroying The Vice Kings.[3]
Saints Row 2
After the Protagonist fell into a coma, Gat attempted to kill Troy Bradshaw for betraying the Saints.[reference?] However, he failed and was taken to prison, in which he stayed for 2 years and 31 days.[4] He was going to be executed for 387 counts of murder,[4] but in his appeal trial, the Protagonist burst into the court room, killed the guards, and rescued Gat.[4] Gat proceeded to help the Protagonist as second-in-command to resurrect the Saints, finding them a suitable new hideout[5] and canonizing new members into the Saints.[6] After the Saints' resurrection, Johnny helped in taking down the Ronin, one of the new gangs that took over. Gat participated in the raid on Poseidon's palace[7] and killed a Ronin who was on Saints Turf.[8] However, this proved to be a fatal mistake as Ronin lieutenant Jyunichi saw Johnny dispose of the body.[8]
When Gat left the house, Jyunichi and a crew of Ronin broke in and captured Aisha. Gat and the Protagonist where heading back home and Gat knew something was up as he noticed the door was cracked open. The Ronin prepared to ambush them but Aisha shouted a warning to Johnny. In turn, Jyunichi decapitated her, infuriating Gat. As a result, Gat got into a sword fight with Jyunichi while the Protagonist killed the other Ronin. Jyunichi and Gat appeared to be on even levels, but when the Protagonist distracted Johnny for a minute in an attempt to shoot Jyunichi, the Ronin stabbed him. The Protagonist managed to get him to hospital since the ambulance was taking too long.[9]
Gat stayed in the hospital for a while up until the Ronin invaded to finish him off, but the Protagonist got Gat away safely.[10] Then the Ronin Leader Shogo Akuji arrived at Aisha's funeral and attempted to kill them in revenge for humiliating him and decimating his gang. Gat survived and, blaming Shogo for ordering Aisha's death, brutally beat him, and buried him alive[11]. Gat proceeded on to defend the Saints Hideout from a Ronin invasion[12] and killed many Ronin at Mr. Wong's heritage festival.[13]
After the Ronin are defeated, Gat is available as a homie. After the gangs had been obliterated, the Saints, along with Gat, moved on to take down the corrupt company of Ultor, in defense and retaliation against the new Masako strike team threat. In an assassination attempt against Dane Vogel, Johnny used a sniper rifle to shoot at the surrounding guards while the Protagonist planned to personally murder Vogel, although Johnny was spotted by a security guard. When Vogel escaped to his office atop the enormous Ultor tower, Gat stayed below at the entrance, buying the Protagonist time. After Vogel had been killed, Johnny Gat did what he Says he loves to do: shooting at oncoming waves of cops.[14]
Saints Row: The Third
In
Saints Row: The Third
,
Shaundi
,
The Protagonist
,
Josh Birk
and Johnny attempt to rob a bank when it's revealed this isn't a normal bank it has major protection. They are soon all arrested (With Birk escaping saying "
I don't want to be some dude's bitch
"). When the Boss is brought to their cell Johnny expresses disappointment over what the Saints have become saying there's much more to the Saints name than body spray and ass tasting energy drinks.
They are then taken aboard the Syndicate's plane where Phillipe Loren tells them in exchange for their lives they will give up 66% of their income. After a heated discussion Johnny breaks out of his chair and bashes Loren's head into a plane window decompressing it, he then says he'll hold off the gang members and fly the plane back to Stilwater. When the Boss and Shaundi are about to jump, on the intercom multiple semi-automatic rifles gunshots can be heard. Philip later indicates that Johnny is killed whilst on the plane. At the end of the game,[17] Johnny Gat is unlocked as Zombie Gat, with the super-power of one-hit kills and seemingly invincible. Zombie Gat has injuries in the chest and ribs.
Genkibowl VII
"Johnny Gat alive? Rumors circulate about the notorious gangster's fate."
During the opening cutscene of the first Activity in Genkibowl VII, "Apocalypse Genki", the news ticker reveals that rumors are circulating of Gat being alive.[18]
The Trouble With Clones
Gat himself doesn't actually make an appearance in this DLC but a clone of him named Johnny Tag. He has the facial and hair resemblance form Saints Row 2, but he has his jacket from Saints Row the Third. He has a Brute like form and his memory seems to stop from right before he got revenge on Shogo for killing Aisha.
Personality
Johnny Gat is a brash, sarcastic, hot-headed, trigger-happy man. He is of Eastern Asian heritage and has a torrid, on/off relationship with local R&B diva, Aisha. Johnny has been seen as a stereotypical gung-ho like gangster and has absolutely no sympathy toward those he kills. Although Johnny is quite harsh and disrespectful to Aisha, Gat does have a soft and caring side as he goes berserk with rage upon the Ronin in his house after Aisha's death and informing the Protagonist that Pierce and Shaundi are in danger. He also has a habit of cheating death as he survived being shot in the knee by a shotgun[19] and stabbed in the stomach with a sword[20] and has taken out many gang members and cops by himself. Gat seems to have nearly super-human strength as he punched Shogo's head through a grave stone[21] and ripped a chair up that was not only bolted down but he was tied to it.[22]
Blood In, Blood Out: The Johnny Gat Story
Blood In, Blood Out: The Johnny Gat Story' is a documentary about Johnny Gat. It once aired on the TV, right before a Channel 6 special featuring Jane Valderama's interview with Tera Patrick.[14]
Trivia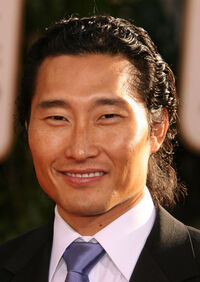 Johnny Gat is voiced by Daniel Dae Kim in Saints Row, Saints Row 2 and Saints Row: The Third.[23]

Johnny Gat bears some resemblance to his voice actor in Saints Row: The Third regarding facial structure. He may be of Korean descent like his actor.

Johnny Gat's preferred firearm is a K6 Krukov.
Johnny's last name Gat is slang for pistol.
Johnny was severely wounded in every game.
Saints Row
Johnny drives a unique Venom during Saints Row, although he gives it to The Protagonist after "All the King's Men".
Because they were both asian, some fans speculated that Johnny was related to Lin. To put the matter to rest, V-Singular (Volition, Inc.'s community manager) stated on the official forums that they were not related.[24]
Saints Row 2
Saints Row: The Third
When The Protagonist uses the British Male or Russian female voice, they will tell Pierce that when Gat was younger he could take a shotgun bullet to the knee[19], but everything changed when Aisha died.
In the cyber world where the MC defeats Matt Miller, one of the grave stones hovering in the air says "Here lies Johnny Gat / He died like a / little bitch / you are next / LOL ... DIE".
During the error scene in Http://deckers.die, lines saying "How could you let Gat die," are seen.
As of Saints Row: The Third, Johnny Gat and The Protagonist are the only original members still remaining in the 3rd Street Saints.
In Saints Row: The Third, from screenshots and trailers, it appears Johnny Gat's skin tone is darker, and no longer has his neck tattoos from the original two games. However, it could simply be that the jacket and shirt he is wearing are covering them.
There is a running reference to "Keyboard Cat" in the game, called "Johnny Cat". The image flashes the title as a cat with Gat's signature Saints Row hairstyle and glasses plays a keyboard. This can be found primarily at the Saints HQ crib, but has been confirmed on numerous monitors throughout Steelport.[25]
An advertisement regarding collectible Saints Row: The Third character bobbleheads foreshadowed Gat's death and resurrection as a zombie in Saints Row: The Third, as many fans had speculated[26][27] prior to the game's release.
The "History of the Saints" feature explains Johnny Gat "uses the Gat-Mobile to travel to schools where he gives inspirational speeches to kids".[32]
Gat has his own comic book, entitled Gangstas In Space.[33]
Johnny Gat is the longest running member of the 3rd Street Saints, appearing in all of the games.
In the official Prima guide, in the development section if you choose to kill killbane, there was originally to be a coda after the closing credits where an enigmatic figure was flying into Steelport on a Syndicate jet and the person accompanying him was Johnny Gat.[

scan?

]
In the first two Saints Row games, Johnny has light brown eyes. However, in Saints Row: the Third, on close inspection, his eyes are bloodshot and a very pale purple.
Johnny also has consumed a lot strength over the course of the first two games, as during the mission When Good Heists Go Bad as the explosion goes off the rest of the gang member's jump to their safety, Johnny only uses his right arm to shield himself from the explosion, and during the mission I'm Free - Free Falling he freed himself from a chair that was nailed to the floor and also took a hidden knife to the stomach from Phillipe Loren and was still able to fight off a dozen of Phillipe's soldiers yet he died from gunfire
Scott Phillips has been directly asked whether Johnny was really dead, and revealed that it was decided early on that Johnny had to be killed to drive the hatred of the Syndicate, even though many developers did not want to kill Gat.[34]
Gallery
References
↑ "Aisha's Favor" mission
↑ 3.0 3.1 Saints Row
↑ 4.0 4.1 4.2 4.3 "Appointed Defender" mission
↑ "When Good Heists Go Bad" mission
↑ "I'm Free - Free Falling" mission
↑ "STAG Film" and/or "Gangstas in Space" missions
↑ 19.0 19.1 He is shot by Tony Green, in the mission Best Laid Plans...
↑ House Party cutscene for Bleeding Out cutscene in Saints Row 2
↑ Requiem cutscene for Rest in Peace mission in Saints Row 2
↑ Opening cutscene for I'm Free - Free Falling mission in Saints Row: The Third
↑ Saints Row: The Third | Celebrities? I Got Your Celebrities Right Here, retrieved 19th July 2011
↑ Johnny Gats Asian?, post #10, retrieved 7th September 2011
↑ Saints Row: The Third General Suggestion and Discussion Thread, post #8155, retrieved 7th September 2011
↑ Community Q&A - Submit Your Questions!, post #92, retrieved 7th September 2011
↑ "Nyte Blayde's Return" mission