Hitman is an Activity in Saints Row and Saints Row 2.
In Saints Row, Hitman is one of if not the hardest activities in the game, as searching for a target around the city, could take a few hours or even days in real time. The activity was designed so that missions or other activities could be done whilst waiting for the targets to show up. The activity is easier in Saints Row 2, with most targets having a fixed location or a way of luring them out.
After getting the list of targets from the client, it is added to the Activities menu. Targets can be killed at any time, but are more easily located by adding them to the HUD.
Most targets only spawn at certain locations, but some spawn anywhere in Stilwater.
Saints RowEdit
In Saints Row, targets must be killed with a certain weapon.
Los Carnales (Wardill Airport)
Deb: "Don't ask questions, just come with me."


Deb leads The Protagonist to a table.

Deb: "This...is for you."


She opens a briefcase full of money and turns it towards The Protagonist.

Deb: "If... you kill him."


She drops a photo on top of the money.

Deb: "Right now I'm willing to bet you're thinking one of two things. Either your[sic] thinking, "There's no way I can kill someone who's done nothing to me" or you're thinking, "How am I gonna spend all that cash". Let me tell you something sweetie, the second thought is gonna get you farther in this world."


— Deb[1] in Life Lessons cutscene.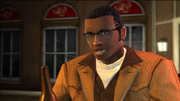 Vice Kings (Shivington, Projects District)
Marcel drinks a beer while The Protagonist sits down

Marcel: "I'm glad you could make it...One of my niggas is in trouble and I need you to help. He's got a big court case comin' up and the prosecutor has a whole line of witnesses that could put him away...needless to say, that ain't gonna happen. I got a list of all the witnesses and I'll pay you for each one you can take out. That straight with you?"


— Marcel[1] in An Offer They Can't Refuse... cutscene.
Westside Rollerz (Chinatown)
Translator: "Your table is this way, sir."


The Translator leads The Protagonist to Mr. Wong's table. Mr. Wong speaks in Mandarin, and the Translator translates it for The Protagonist.

Translator (translating): "My name is Wong Sheng Tai, welcome to my teahouse...please, sit down."


The Protagonist takes a seat, and Mr. Wong continues speaking in Mandarin.

Translator (translating): "It is an honor to meet you; it is rare in this country to find someone with your tenacity."


Photos are in front of The Protagonist, and Mr. Wong continues speaking in Mandarin.

Translator (translating): "Contained inside are the specifics about a group of men who have wronged my family...go and speak to them, but they are not to be harmed."


The Translator is immediately shot in the leg and he falls over screaming. Mr. Wong calmly places his gun on the table.

Mr. Wong (in English): "He heard me wrong. I wish for them all to be dead...do we have a deal?"


— Mr. Wong and his Translator in Lost In Translation cutscene.
Notes
↑ Note: Found in Nightclubs.
↑ Note: Truck driver.
↑ Note: Blonde with a long white skirt.
↑ Note: Jogs during the day.
↑ Note: Wears Hot dog outfit.
↑ Note: Near Scratch That at 9am.
↑ Note: Walks in the morning.
↑ Note: Drives a Status Quo. Sometimes at Freckle Bitch's in Mission Beach.
↑ Note: Walks after 7am.
↑ Note: Appears at sunset.
↑ Note: Drives a Delivery Truck.
↑ Note: Elderly woman.
↑ Note: Around Friendly Fire.
↑ Note: Walks at night.
↑ Note: Overweight Prostitute.
↑ Note: Roller Skater
↑ Note: Construction worker.
Saints Row 2Edit
In Saints Row 2, targets still appear on the map if not selected in the HUD.
Some targets require performing a certain action before they spawn, so it is important to read the details in the target list.
Sometimes, the target uses a decoy. After killing the decoy, the real target spawns.
OK, so hypothetically I might owe some people a lot of money after betting against the SU chess team. If you don't take those motherfucka's out, you might be out one lieutenant if ya know what I'm sayin'...


— Pierce
Some of my sponsors are trying to drop my show because I'm too honest...I need you to show them that was a bad idea. You're probably poor and desperate, I'm sure you can use the money.


— Anna
References
Edit