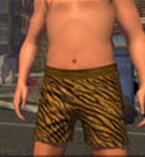 The Funky Fresh Pack is a downloadable content pack for Saints Row. [1]
"Pack contains 69 new wear options for your character; including clothing, bling, tattoos and hair."
— Official Description
Description
Edit
The Funky Fresh Pack was released shortly after the release of Saints Row on August 8th 2006. It costs 100 Microsoft Points on the Xbox 360 Marketplace, and is 14.31 MB.
The pack adds 69 new wear options for the player character, this number is misleading, as there are only 31 discrete items, with multiple colours and wear styles.
From Do It Up and Shear_Intensity
Hair - Full Spikes (Respect:0)
Sideburns - Sharp Edge Mutton (Respect:0)
Eyebrows - Angled (pointy eyebrows) (Respect:0)
Mustache - The Ladies Man (Respect:0)
Mustache - The Curly Gent (Respect:0)
Beard - Split Goatee (Respect:0)
From On Thin Ice
Medallion - Saint's Row Medallion (Respect:15-25)
Ring - Skull Ring (Respect:15-25)
From all Clothing Stores
Hat - Samurai Helmet (Respect:45-50)
Eyewear - Leather Eye Patch (Respect:20)
Undershirt - Fake Tuxedo Shirt (Respect:0)
Overshirt - Short Sleeve Tropical Shirt (Respect:0)
Coat - Spiked Leather Jacket (Respect:45)
Wrist - SR Wrist Band (Left or Right) (Respect:19)
Underwear - Tiger Stripes (Tiger Print Boxers) (Respect:40)
Underwear - Leopard Skin (Leopard Print Boxers) (Respect:40)
Pants - Leather Chaps (Respect:45-50)
Shoes - Crazy Bunny Slippers (Respect:20)
From Rusty's Needle
Tattoo - Ankh 1 (left or right forearm) (Respect:13)
Tattoo - Ankh 2 (left or right forearm) (Respect:13)
Tattoo - Ankh 2 (right or right forearm) (Respect:13)
Tattoo - Biohazard 1 (left or right shoulder) (Respect:13)
Tattoo - Biohazard 2 (left or right shoulder) (Respect:13)
Tattoo - Biohazard 3 (left or right shoulder) (Respect:13)
Tattoo - Panther 1 (back) (Respect:30)
Tattoo - Panther 2 (back) (Respect:30)
Tattoo - Panther 3 (back) (Respect:30)
Tattoo - Rattlesnake 1 (chest) (Respect:30)
Tattoo - Rattlesnake 2 (chest) (Respect:30)
Tattoo - Spider 1 (left or right leg) (Respect:13)
Tattoo - Spider 2 (left or right leg) (Respect:13)
References
Edit