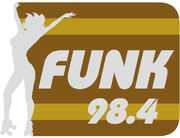 Funk 98.4 is a radio station in Saints Row 2.
It plays rare funk, mostly from the Soul Cal Records label.[1]
Elly Moon is the DJ for Funk 98.4.
Tracklist
Edit
Amnesty - "Love Fades" (1973)
Bad Medicine - "Trespasser" (1974)
Chocolate Star - "Gotta Get Your Love" (1980)
Clifford Nyren - "Keep Running" (1979)
Ebony Rhythm Band - "Drugs Ain't Cool" (1969)
Leon Mitchison - "Street Scene" (1971)
Luther Davis Group - "You Can Be A Star" (1979)
Pure Essence - "Wake Up Pt. 1/ Pt. 2" (1976)
Sheila Skipworth - "Look What You've Done To Me" (1969)
Dayton Sidewinders - "Funky In Here" (1972)
The Rhythm Machine - "Put A Smile On Time" (1975)
The Soul Seven - "The Cissy's Thang" (1969)
UPC Allstars - "Don't Get Discouraged" (1971)
References
Edit
Ad blocker interference detected!
Wikia is a free-to-use site that makes money from advertising. We have a modified experience for viewers using ad blockers

Wikia is not accessible if you've made further modifications. Remove the custom ad blocker rule(s) and the page will load as expected.