Frat Row is a neighborhood in the Stilwater University District of Stilwater.
Frat Row is one of two neighborhoods in the Stilwater University District, along with Stilwater University itself.
It is mostly comprised of fraternities and a few stores including Scratch That and Brown Baggers. At the center is the Culex Stadium where the Demolition Derby activity takes place.
It also contains a crib which costs $15,000.
Locations
Edit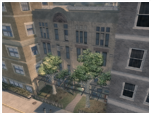 Activities & Diversions
Edit
"Welcome to Stilwater University Campus Town
Home of the Skeeters
All your base are belong to us"
References
Edit
Ad blocker interference detected!
Wikia is a free-to-use site that makes money from advertising. We have a modified experience for viewers using ad blockers

Wikia is not accessible if you've made further modifications. Remove the custom ad blocker rule(s) and the page will load as expected.