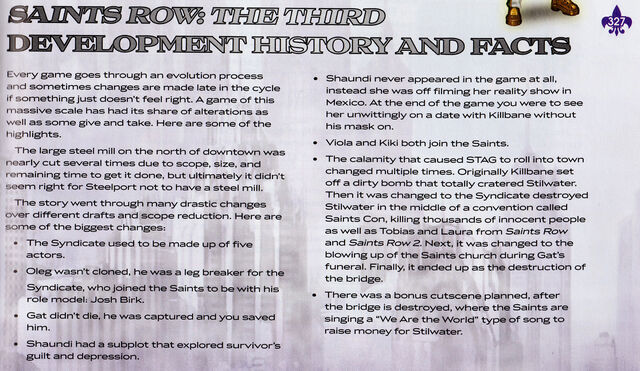 Description
Edit
This is a scan of the Prima Guide to Saints Row: The Third taking about changes made to the game during production.
Transcript
Edit
Every game goes throguh an evolution process and sometimes changes are made late in the ycle if something just doesn't feel right. A game of this massive scale has had its share of alterations as well as some give and take. Here are some of the highlights:
The large steel mill on the north of downtown was nearly cut several times due to scope, size, and remaining time to get it done, but ultimately it didn't seem right for Steelport not to have a steel mill.
The story went through many drastic changes over different drafts and scope reduction. Here are some of the biggest changes:
The Syndicate used to be made up of five actors.
Oleg wasn't cloned, he was a leg breaker for the Syndicate, who joined the Saints to be with his role model: Josh Birk.
Gat didn't die, he was captured and you saved him.
Shaundi had a subplot that explored survivor's guilt and depression.
Shaundi never appeared in the game at all, instead she was off filming her reality show in Mexico. At the end of the game you were to see her unwittingly on a date with Killbane without his mask on.
Viola and Kiki both join the Saints.
The calamity that caused STAG to roll into town changed multiple times. Originally Killbane set off a dirty bomb that totally cratered Stilwater. Then it was changed to the Syndicate destroyed Stilwater in the middle of a convention called Saints Con, killing thousands of innocent people as well as Tobias and Laura from Saints Row and Saints Row 2. Next, it was changed to blowing up of the Saints church during Gat's funeral. Finally it ended up as the destruction of the bridge.
There was a bonus cutscene planned, after the bridge is destroyed, where the Saints are singing a "We Are The World" type song to raise money for Stilwater.
Appears on these pages

of
Laura is a character in Saints Row and Saints Row 2. Laura is a normal housewife and mother, who...

Oleg Kirrlov is a character in Saints Row: The Third and Saints Row IV. Oleg is a former KGB...

Shaundi is a character in Saints Row 2, Saints Row: The Third, Saints Row IV, Enter the...
See full list >
File history
Click on a date/time to view the file as it appeared at that time.
Ad blocker interference detected!
Wikia is a free-to-use site that makes money from advertising. We have a modified experience for viewers using ad blockers

Wikia is not accessible if you've made further modifications. Remove the custom ad blocker rule(s) and the page will load as expected.