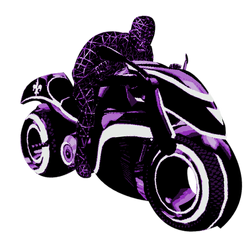 Cyber Blazing
is an activity in
Saints Row: The Third
.
Description
Edit
Cyber Blazing is a special variant of Trail Blazing where an avatar of The Protagonist rides on an X-2 Phantom through a half-pipe in cyberspace. The object is, like Trail Blazing, to race through each and every checkpoint while hitting tanks that resemble ASPs, which add to the time limit and avoiding Firewalls, which deduct valuable time.
Kinzie Kensington is the one who hosts this activity. She states that The Protagonist needs to race through cyberspace in order to hack the Deckers and pinpoint their locations in real life.
  This subject requires more information. You can help by editing this page.

Transcript
Edit
When played as part of the storyline, there is an opening cutscene.
Protagonist: "I thought someone who just got out of captivity would want to live it up a little more."
Kinzie: "Not really, I hate people."
Protagonist: "Oh. So do you have anything on the Deckers?"
Kinzie: "Not yet."
Protagonist: "What have you been doing since you got out?"
Kinzie: "Power leveling."
Protagonist: "You're killing me, Kinzie."
Kinzie: "I can't help you take down the Deckers until I know where they're hiding. So, I wrote a program that tracks a user's physical location while they're logged on."
Protagonist: "That's ... awesome?"
Kinzie: "Just play the damn game and I can pinpoint where the Deckers are in real life."
Protagonist: "Now we're talkin'."
— Cyber Blazing storyline cutscene
Cyber Blazing is very similar to the 1982 arcade game Tron.
References
Edit