Courthouse

The Courthouse in Saints Row 2
City
Neighborhood
Missions
Enterable

Always

Games
The Courthouse is an enterable building in Saints Row 2.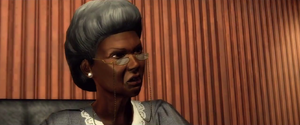 The building features exterior and interior with multiple rooms.
The Courthouse is Stilwater's only courthouse. It is located in the Downtown District, on the border of Adept Way and Brighton. At the entrance there are columns, 2 US flags and the words "Stilwater County Courthouse" appear on a ledge. Above the columns there is an Eagle on top of a piece of ribbon and above that some sort of ancient Greek stone art with characters sticking out of the wall surface level.
The building is 2 stories high, and each floor has a tall ceiling. Outside the main entrance is a Trail Blazing activity marker. There is a water fountain in front of the building. Protesting civilians occasionally spawn at the front entrance and protest. At the main entrance it has 3 doors, all usable. There is also a nonfunctional rear entrance.
Inside the entrance there is a metal detector and x-ray checkpoint, with a Security Guard. Behind the checkpoint, there is a reception area with more Security Guards and a plaque labelled "Directory" showing the courtrooms and names of the Judges. Behind the reception area is the non-functional rear entrance. To the right the cafeteria called "THE LOCKUP", and to the right, the courtrooms.
Cafeteria
Edit
In the cafeteria there are several banners, vending machines, tables for the customers and restrooms. The banners say: SALADS, HOT BAR and SNACKS.
Vending machines
Pedro x2
Untitled snack machine x2
Green Leaf Bank ATM x1
Rotting Fruit Drink x2
Orange Blax x1
Crapped Out Coffee x1
Hot Wieners x1
Popcorn x1
Untitled Pretzel machine x1
Courtrooms
Edit
The Courthouse consists of 2 courtrooms, "Courtroom A" and "Courtroom B".
Courtroom A is the main courtroom and is featured in the mission "Appointed Defender".
Courtroom B is the secondary courtroom with a blue carpet and in which is much smaller than Courtroom A.
Although only two judges are listed on the sign, there are judges of a variety of different appearances inside the Courthouse.
All judges in the game are female.
When driving on the patio, the wheels give the effect of driving on mud or the grass.
References
Edit