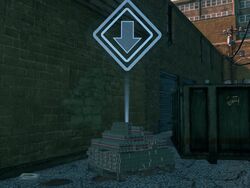 Collectibles is a Collection Diversion in Saints Row: The Third.
Description
Edit
There are 4 kinds of collectibles to be found. There are Drug Packages, Money Pallets, Sex Dolls, and Photo Opportunities. There are 20 of each of the collectibles.
Unlike most Diversions, Collectibles count towards 100% Completion. Each Collectible is worth 0.125% - a total of 10% for all 80 collectibles.
Drug Package
Edit
With all the gang activity in Steelport there are shipments of drugs in town that The Syndicate wants to sell around Steelport. Take the drugs for the Saints to earn yourself some money.


Money Pallet
Edit
With all the gang activity in Steelport there is lot of money that needs to be laundred, take it from them to earn some quick cash.


With all the sex trade in Steelport, sex dolls are surprisingly in demand and fetch high prices (according to Pierce, at least...). Collect them for the quick cash it brings.


The Saints have become celebrities so it's not uncommon to find a very excited fan who wants to take your photograph.
Unlike other collectibles, Photo Ops require interaction. Approaching the fan will prompt a button to be pushed to "Participate In Photo Op". It is possible to kill or jostle the fan, but the Photo Op will re-appear after leaving and returning to the location.
The easiest way to locate all of the collectibles is to first purchase the collectible finder. After doing this it is best to take a Specter (if the player unlocked it in "My Name is Cyrus Temple") and fly over the various sectors of the city in a North/South or East/West fashion. It is not an incredibly fast method, but very efficient, as every square inch of a district can be covered in a single run. The map in the phone can also be set to display collectibles after purchasing the collectible finder (it does not display them when set to the 'all' legend, but does when set to the 'collectibles' legend), which further helps narrow them down, especially if a lot of them have already been collected.
Finding a collectible earns you $1,000.
The fifth, tenth, fifteenth and twentieth of any collectible earns an extra $1,000.
The total Cash earned by collecting all 80 is therefore $96,000.
The packages were first seen in I'm Free - Free Falling, in cargo area several Drugs, Dolls and Money packages are present, but cannot be collected. The Newscast after this mission references the packages falling from the sky.
Although this diversion counts towards 100% Completion, they are only listed in the Statistics screen in the Cellphone, while other things which do not count towards 100% Completion get a separate screen.
References
Edit