Ad blocker interference detected!
Wikia is a free-to-use site that makes money from advertising. We have a modified experience for viewers using ad blockers

Wikia is not accessible if you've made further modifications. Remove the custom ad blocker rule(s) and the page will load as expected.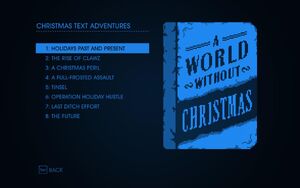 Christmas Text Adventures are collectibles in the How the Saints Save Christmas DLC for Saints Row IV.
The Christmas Text Adventures are similar to the regular Text Adventures. Except that they were written by Future Shaundi,[1][2][3] and tell the story of an "alternate" timeline set after the events of Saints Row IV in which a "Christmas-hating" warlord called Clawz takes over the Earth, ruins Christmas, defeats the 3rd Street Saints, and forces Earth's inhabitants into slave labor.[4][5][6][7] The focus is primarily on how the survivors come up with a plan to stop him, building up to the events of How the Saints Save Christmas.[4]
Image
Section

Holidays Past And Present

Edit
Part 1
Part 2
Part 3
Part 4
Part 5
Part 6
Part 7
Part 8
Part 9

The Rise Of Clawz

Edit
Part 1
Part 2
Part 3
Part 4
Part 5
Part 6
Part 7
Part 8

A Christmas Peril

Edit
Part 1
Part 2
Part 3
Part 4
Part 5
Part 6
Part 7
Part 8
Part 9
Part 10

A Full-Frosted Assault

Edit
Part 1
Part 2
Part 3
Part 4
Part 5
Part 6
Part 7
Part 8
Part 1
Part 2
Part 3
Part 4
Part 5
Part 6
Part 7
Part 8
Part 9

Operation Holiday Hustle

Edit
Part 1
Part 2
Part 3
Part 4
Part 5
Part 6
Part 7
Part 8
Part 9

Last Ditch Effort

Edit
Part 1
Part 2
Part 3
Part 4
Part 5
Part 6
Part 7
Part 8
Part 9
Part 10
Part 11
Part 12
Part 13

The Future

Edit
Part 1
Part 2
Part 3
Part 4
Part 5
Part 6
Part 7
Part 8
Part 9
Part 10
Part 11
Part 12
Part 13
Part 14
Part 15
Part 16
References
Edit