Vehicle Controls
Talk

3
1,038pages on
this wiki
Redirected from Boats
Help the Saints Row Wiki by cleaning up this article!
Marked because: This article needs more details about cars in general, such as damage+repair+exploding, which parts can be broken (tires, doors, windows), as well as info about SR1
There are many types of Cars in Saints Row 2, this article covers land vehicle maneuvers and other related activities.
For a full list of vehicles, see Vehicles in Saints Row and Vehicles in Saints Row 2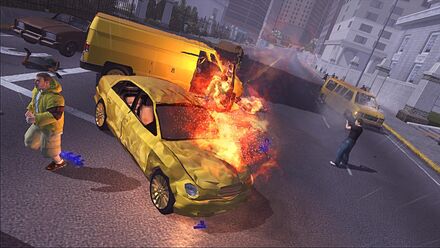 Controls
Edit
There are 3 control layouts for the Xbox 360 in both Saints Row and Saints Row 2, controls on the PC can be set to any configuration. All land vehicles are controlled by the same layout.
See the Controls article for a full list of controls.
There are many Boats in Saints Row 2, this article is a guide to watercraft maneuvers and related activities.
For a full list of vehicles, see Vehicles in Saints Row and Vehicles in Saints Row 2
Damage & Repair
Edit
Cars are able to take a certain amount of damage before they begin to smoke, and, with enough damage, will eventually catch fire and then explode.
Fully Reinforced Cars can take up to at least 20 percent more damage than a regular Car. For example, usually 1 shot with a pistol to a tire to make it burst, but reinforced tires take 2-4 Shots.
Objects such as, mirrors, headlight pieces, reinforced pieces, bumpers, doors, and other objects on the car may fall off due to damage (bullet or crash).
To repair your car, you can either go to a Car Mechanic. If your vehicle is a large vehicle, like the Cheetah , then it must be taken to Semi Broken . Alternatively, you can place your car in your garage, and when you retrieve it you will be given the option to repair it for a certain price, depending on the amount of damage (Usually $100-$300)
Land Vehicles
Edit
Cruise Control
Edit
The Cruise Control system allows for a car to be locked at a certain speed. This can be useful for maintaining slower or faster speeds, and can be very useful in the Drive-by Diversion.
To speeding up or slowing down will not turn off cruise control, it will merely change the set speed. Note: using a nitro booster while using cruise control will deactivate it.
Powersliding
Edit
Powersliding is a maneuver that allows one to make sharp turns without losing much of their speed. To powerslide, hold the emergency brake while driving at high speed and turn to the direction one wishes to powerslide.
Back Blasting
Edit
Back Blasting refers to shooting at enemies behind you during driving. A good way to do this during a chase is to go to top speed and activate cruise control. Now, rather than using RB for looking back, simply sweep to it with the back analog stick. This stratedgy is useful as while you are lining up the shot you won't accidently lose speed or swerve your vehicle.
Camera Snapback
Edit
Camera Snapbacks are performed by simply clicking the right bumper. It's useful if you're looking away from the front of your vehicle (like for shooting pursurers) without needing to drag the right analog stick back to your front.
Blockade Running
Edit
Once you get to three stars, running blockade can get annoying if you don't know how to handle them. If you are in a lighter vehicle that doesn't have much durability, it is recommended to see if there is an opening between the end vehicle and the edge of the road. If you are in a meatier vehicle such as a van or truck, it is possible to simply bash through the blockade by aiming the center of your car in the small opening between two of the vehicles forming the line. One other option is to have a partner with a rocket launcher along who will simply blow up the blockade before you get to it.
Fallback
Edit
A strategy one can use during car chases is to use the Fallback technique. To do this, when you see a turn you can take, hit the E-brake and let your pursuers run ahead of you, while they try to turn around to get to you, you will be turning into your exit having easily evaded them.
Stop-Cannon
Edit
A quick an effective tactic for eliminating enemy cars hot on your tail is to simply stop. If you find a pursuer directly behind you, use the brake (or E-brake) to stop quickly. NPC drivers usually won't have the time to stop, and will shunt your car. This will usually send them flying though their windshield and in front of your car; where, if they're not already dead, you can easily dispatch them by running them over.
Waterside Bailout
Edit
A Waterside Bailout can be a good way to get away from more dangerous pursuers. When possessing an amount of Notoriety a player can't handle, A possible remedy is to go to a nearby beach or bridge spanning the water. You bailout of your vehicle into the water where one can find less dangerous water enemies to combat until one can make their way to Forgive and Forget.
Riding the Rails
Edit
Throughout Stilwater runs network of sky train rails that can be accessed from the bridges of the train stations. The rails are good place to drive as it avoids traffic and usually enemy cars won't follow you up but you can easily fall out. Be sure to stay on the right side of the tracks so you don't get hit by an oncoming train.
Fun Stuff to Do
Edit
Street Racing
Edit
Pretty much explains itself, you and a co-op player start in one section of the city and have a race from point A to point B. It is recommended 1 player make both cars identical so one player doesn't have an edge after another.
Mall Mauler
Edit
Grab a car and go to the Rounds Square Shopping Center. Go crazy. Run down as many people as you can.
Chop Shop Race
Edit
You and a co-op friend have a competition to capture and return a specified vehicle type to the Chop Shop.
Pyrotechnician
Edit
Get a stopwatch, a fast car, and grenades and race around the city seeing how fast you can destroy every gas station in the game.
Watercraft
Edit
Watercraft have the same controls as land vehicles. A is used to accelerate. X is brakes and reverse. The left analog stick is used to steer. Y is used to enter and exit vehicles. The left Trigger is used for the emergency break. The left bumper is used to activate cruise control. The right bumper is used to look behind you.
Tunnels Under Stilwater
Edit
There are several tunnels that run under Stilwater that can be used to travel to new areas quickly without having to go around the whole island. (If someone could supply a map of these tunnels, that would be great)
Playing Pirate
Edit
There are many ways to capture the many ships of Saints Row 2. For capturing samller, open-topped, ships, it is easiest to get directly infront of or behind the boat you are trying to capture and headshot the driver. An easy way to capture larger ships or the close-topped Hurricane is to drive up to them (it's easier to have a co-op partner do it for you) and throw a Satchel Charge onto the side of the boat. Hurricanes only take one charge but Skippers or Convicts will take 2 or 3.
Boat Javalin
Edit
Playing Boat Javalin requires a sloped waterfront (preferably a beach) and a boat. To play, go out as far from the shore as it takes to get up to top speed. Race back to the shore, launch over and onto the land, and see how much distance you can get, preferably taking out shacks and tourists along the way.