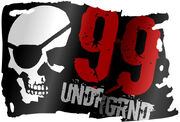 99.0 The Underground is a radio station in Saints Row 2.
Genre: Indie rock
Ken is the DJ for The Underground
Tracklist
Edit
Architects - "Don't Call It A Ghetto"
Bound Stems - "Western Biographic"
Deerhunter - "Hazel St."
Kasabian - "Shoot the Runner"
Marnie Stern - "Every Single Line Means Something"
Okkervil River - "For Real"
Shiner - "Third Gear Scratch"
Shipwreck - "House of Cards"
South Street - "Call In The Debts"
The Rakes - "Terror"
The Saps - "Dead Friends"
The Thermals - "Here's Your Future"
The Twilight Sad - "And She Would Darken the Memory"
Tokyo Police Club - "Cheer It On"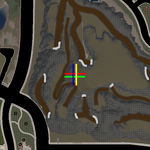 Because this station is pirate radio, the signal strength varies across Stilwater, often dropping in volume when driving around and making the station impossible to access in some areas.
Due to the dropouts, it is possible to narrow down the area from which The Underground is transmitted, or the exact co-ordinates are specified in the game files. It is transmitted through the lower radio tower on Mount Claflin.
I'm Ken, and you suck. 99.0, pirate radio.

— Ken
99.0, pirate radio. Fuck the mainstream.

— Ken
Because she just won't shut up, here's Jane Valderama with the news.

— Ken
99.0, Pirate Radio. Dont fucking tell anybody about this.

— Ken
References
Edit
Ad blocker interference detected!
Wikia is a free-to-use site that makes money from advertising. We have a modified experience for viewers using ad blockers

Wikia is not accessible if you've made further modifications. Remove the custom ad blocker rule(s) and the page will load as expected.