Four-20 103.6[1] AKA 103.6 420 FM AKA Four 20 103.6[2] is a Radio Station in Saints Row, Saints Row 2 and Saints Row IV.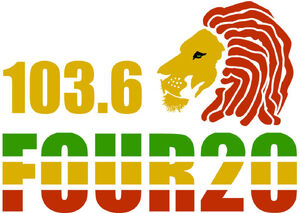 Saints RowEdit
Errol 'DJ Gringo'[3] is the DJ for FOUR-20 in Saints Row.
Tracklist
Edit
African Roots Act 1 - "Addis Adaba Dub" 1977
Beat Pharmacy - "Slow Down" 2006
Eek-A-Mouse - "Jamaicanese"
Horace Andy - "Live In The City" 1982
Horace Andy - "Stop The Fuss" 1982
Jah Batta - "Informa" 2004
Jah Woosh - "Riding Melody" 1976
Love Joys - "All I Can Say" 1983
Prince Douglas - "Tongue Shall Tell Dub" 1980
Scotty - "Draw Your Brakes" 1971
Sugar Minott - "International Herb" 1983
Tapper Zukie - "Man Ah Warrior" 1977
The Pioneers - "Time Hard" 1972
U-Roy - "Way Down South" 2006
Wayne Jarret - "You And I" 2002
Saints Row 2Edit
Most Sons of Samedi vehicles are set to this station.[4]
The DJ in Saints Row 2 is DJ Ziggy, voiced by Andrew Kishino.
DJ Ziggy makes reference to the fact no one knows The Protagonist's name when he plays "Who am I".
Tracklist
Edit
DJ Ziggy's name may come from reggae singer Ziggy Marley.
The name of the radio station and the way it is pronounced (four-twenty) comes from the cannabis subculture reference of 4/20.
The song listed in the game and in the credits as Dennis Brown's "Stop the Fussing and Fighting" is actually Dennis Brown's "Together Brothers".
Saints Row IVEdit
This station returns in Saints Row IV.
Mr. Sunshine is the radio host for Four 20 103.6 in Saints Row IV.
Tracklist
Edit
Born Jamericans - "Cease & Seckle" 1994
Charly Black and J Capri - "Whine and Kotch" 2013
Delroy Wilson - "You Never Get Away'" 1971
Dennis Brown - "Milk and Honey" 1978
Early B - "History Of Jamaica" 1984
Easy Star All-Stars - "One Likkle Draw" 2011
Eek-A-Mouse - "Wa Do Dem" 1981
Max Romeo - "Juks"
Ranking Dread - "Fattie Boom Boom" 1981
Super Beagle - "Dust A Sound Boy" 1986
Tenor Saw - "Ring the Alarm" 1985
The In-Crowd - "Mango Walk" 1975
Toots And The Maytals - "Pressure Drop" 1970
Wayne Smith - "Under Mi Sleng Teng" 1985
References
Edit
↑ Game: Saints Row
↑ Image:

↑ Credits: Saints Row credits
↑ Note: Verified with multiple vehicles
↑ 5.0 5.1 Note: Available in the Playlist Editor at the start of the game.
This article contains no references. See
Help:Cite
.