Random Quote
I really hate to sound like Johnny, but the best plan I got right now is just to go in there and take Angelo out.


— Dex to The Protagonist, during their drive to the Lopez Mansion.
(from House Call)
Random Audio
File:Reclamation Julius Little.ogg
Used on
Reclamation
Randomly chosen from 836
Audio files
on the Saints Row Wiki
Random Trivia
Which vehicle in
Saints Row 2
has the most Body Mods and Details options?
(Answer)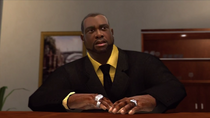 Benjamin King founded the Vice Kings in the early 1970s.
In Saints Row he is betrayed by his ambitious lieutenants, Warren Williams and Tanya Winters, and subsequently works with his old friend Julius and 3rd Street Saints to get revenge, destroying his former gang in the process.
He is a Homie for several missions, and drives a Mag, which is unlocked in the Garage upon completion of the Vice Kings story arc.
After writing a successful novel, Regicide: The Rise and Fall of the Vice Kings, he returns in Saints Row IV to once again work alongside the The Protagonist and the Saints.
Random File
File:Corvette.jpg
Used on
Venom
Uploaded on 2010-07-25 by
Andrew nicholson
If this is a poor quality image, please
upload a replacement
.
Randomly chosen from 15228
files
on the Saints Row Wiki
Required reading: User_blog:452/Always_ask_questions, Help:Interwiki links.

Since May, I've been attempting to find out the reasons behind the wide-spread use of using interwiki links to link to other Wikia wikis.


Special:LinkSearch is used to search for external links. Interwiki links do not appear in the list, because they are not registered as being external. This is a known disadvantage list…


Read post >

Since User blog:452/Saints Row IV facts worked so well as an information dump, I'm going to go with that format again.

Saints Row: Gat Out of Hell can only hold so much information, so it's nice to have somewhere to list all known information before it gets organised.

Any time a gameplay video is released, let me know here and I'll upload 100 screenshots of it for use as references.

Remember: This …

Read post >

I was going to do a write-up of what I learned in a recent gameplay video, but here's a more general post with a range of facts about Saints Row IV.

This wiki is the largest and most detailed archive of information about the Saints Row series, but it has never been claimed to be the most up-to-date, or to be a news site. It's built by fans, for fans - if you're a fan, and you want to add news, feel…

Read post >

Who would like some news?

Deep Silver have posted voice cast for Saints Row IV, so we now know some more about exactly which older characters will be appearing in the game.

These characters are expected to mostly appear within simulations, but I'm hopeful that all of them will be unlocked as Homies in the game.

Most of them are voiced by the same actors, which some unfortunate exceptions. I assume tha…

Read post >

Anyone with any opinions about the Classification Guidelines should ensure that they are properly educated on the matter before saying anything.

This IGN article provides excellent insight into the matter.

Below is the original statement from the Classification Board.


Saints Row IV: first computer game classified Refused Classification


The Acting Director of the Classification Board Mr Donald McDonal…



Read post >

A copy of Saints Row: Money Shot has surfaced, and a high resolution video has been posted to youtube. The video is included below.

We've added available information about the game to the Saints Row: Money Shot article, but there is still much we are missing.

If you have a hacked XBox 360 which can play the leaked game, we need your help! We already have the names of the missions and bullets, but her…

Read post >

On the 6th of April, 2013, Steve Jaros, the "Writing Lead" for Saints Row: The Third, confirmed via twitter than "Saving shaundi" is the canonical ending of Saints Row: The Third.

Link to his twitter post: https://twitter.com/SteveJaros/status/320517632040243200

Therefore, at the end of Saints Row: The Third, the Magarac Island statue is still standing, the Daedalus attack never happened, Steelport is…

Read post >


Please see Saints Row: The Third - The Full Package for full information.}}

Although all Saints Row DLC have recently been removed from the Xbox Marketplace, THQ have finally done something right by announcing that they will be releasing all DLC for Saints Row: The Third on disc.

I salute Kevin Kraff for giving fans what they have requested. Hopefully the DLC for Saints Row and Saints Row 2 will al…


Read post >