This article contains some pre-release information regarding Saints Row: The Third.

Pre-release developer statements are often inaccurate or misleading.
Some things on this page may be incomplete or no longer accurate.
Verify everything and add proof, such as references and screenshots.
Always check sources of information. Ask questions on the talk page.
Remove this header once you have confirmed all information is accurate.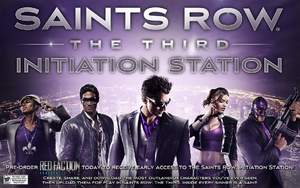 The Initiation Station is free downloadable content for Saints Row: The Third.
Description
Edit
The Initiation Station allows players to customize and dress their Protagonist before the game is released.[1]
Available November 1st for Xbox 360, PlayStation 3, and PC, the Initiation Station serves as free downloadable content for all players that will allow them to create their own characters, as well as allowing players to share and download created characters with other players in the community on the official Saints Row website.
Created and downloaded characters will be available to play as when Saints Row: The Third is released.
Those who bought Red Faction: Armageddon or the Saints Row Double Pack gained early access to the Initiation Station. Also, gaming website GameSpot gave out free codes for early access.
The Initiation Station's filesize is 872.32 MB on Xbox or 754MB on PS3.
Through Xbox Live, it is only available to people with gold membership. It can also be transferred via a usb drive, but characters cannot be saved locally.
It only allows for twenty customizations to be uploaded, unless one or more is deleted.
As of 9

th

November 2011, over 1,000,000 characters have been created in the Initiation Station.[2]
The "Shake Fist" taunt is only available in the Initiation Station.
The "Crooks and Castles Jeans" lower body clothing piece is only available in the Initiation Station.[3]
The "Basic Parachute" backpack clothing piece can only be customised in the Initiation Station.[4]
Not all of the costumes in Saints Row: The Third are in the Initiation Station.
The Initiation Station has disappeared with no explanation from the Playstation Store, however the ad for the Initiation station is still shown on the store, but it links to the Saints Row: The Third store page. People who previously downloaded it from the store can still download it by accessing the download list.
Porn star Nikki Benz is shown in the Initiation Station intro/trailer.
References
Edit
This article contains no references. See
Help:Cite
.